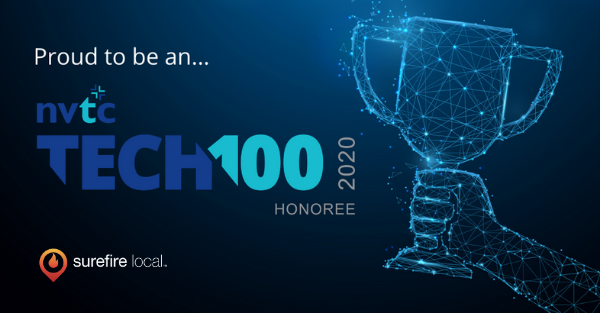 NVTC's Tech 100 awards celebrate the region's most innovative and groundbreaking technology companies.
Surefire Local, the industry leader of local marketing software and services for small and medium-sized businesses has been named as a 2020 Tech 100 company by the Northern Virginia Technology Council (NVTC). The NVTC is a membership and trade association for the Northern Virginia and Greater Washington area technology community. And the NVTC Tech 100 list features the region's most groundbreaking companies, leaders, and innovators.
"While this year has presented numerous challenges to every organization and individual, it is encouraging to see so many of the area's tech companies and executives remain resilient and committed to the health and wellbeing of their employees, the success of their companies, and industry advancement. Congratulations to Surefire Local for being named a 2020 NVTC Tech 100 honoree and for the positive impact the firm has made in our region." said Jennifer Taylor, NVTC president and CEO.
The entire Surefire Local team is beyond humbled to be among those chosen out of nearly 200 nominations for this prestigious award. And while this is a time for celebration, the company's leadership team acknowledges they have a long way to go still until they get to where they ultimately want to be.
"We are honored to be listed on the NVTC Tech 100 in back-to-back years, " said Chris Marentis, Founder and CEO of Surefire Local. "But we're also just getting started. We made the decision to embark on a bold mission – to help small businesses grow profitably by making online marketing easier – and that has driven us to build a next-generation software with a user-friendly platform that is available everywhere, across devices and browsers. And to receive this recognition is a testament to everyone working together to make our mission a reality for so many small business owners across the country."
In a year of uncertainty, Surefire Local has been able to bring a sense of confidence to small businesses with regards to visualizing their marketing ROI, noting record levels of engagement. The company successfully rolled out powerful new features to the Surefire Local Marketing Platform, significantly optimized for speed and availability, and introduced a complete overhaul of their mobile app available on iOS and Android.