Google Local Services Ads offers your small business a powerful opportunity to reach more qualified prospects while they search on Google for your services or product within your specified service area. Local Services Ads are one of the many tools Google has created to help connect local businesses with their ideal customers, along with Google My Business, Google Photos, Google Posts, and Google Ads.
Google Local Services Ads help consumers quickly and easily discover, connect with, and hire service professionals with complete confidence because of:
Instant Results: Consumers can compare professionals at a glance and connect with the best option.
Ease and Convenience: Everything consumers need to hire a professional is organized in one place.
Trust: Pros are prescreened, backed by the Google Guarantee badge, and real customer reviews.
While it's not necessarily considered a "new" advertising option since these ads have been around for a few years, many small businesses still have yet to take advantage of them. If you already have a Google Ads strategy and budget, adding Local Services Ads is a no brainer. That way, your business can dominate local search results and outrank competitors, especially on mobile devices, by taking up the majority of what a searcher sees.
If you happened to check out our Complete Guide to Marketing Your Small Business on Google, you'll have noticed that when searching from your phone, Google Local Service Ads account for around 60% of what's visible on the screen with Google Ads filling in the rest.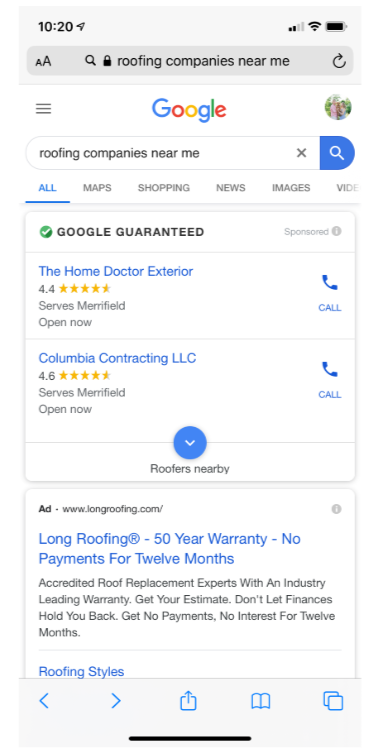 You don't see any Map or organic listings unless you scroll down.
In that same blog article, we also broke down an entire Google local search results page, section by section. You'll notice on desktop search also, Google Local Services Ads garner the top spot in search results.

Getting Started with Google Local Services Ads
First things first, you'll want to check your eligibility to see if Local Services Ads are available for your services and markets and then proceed to sign up. Google is adding new options on an ongoing basis, so if it's not available for you today, it likely will be soon.
Here are is the setup process you can expect to experience when first getting started.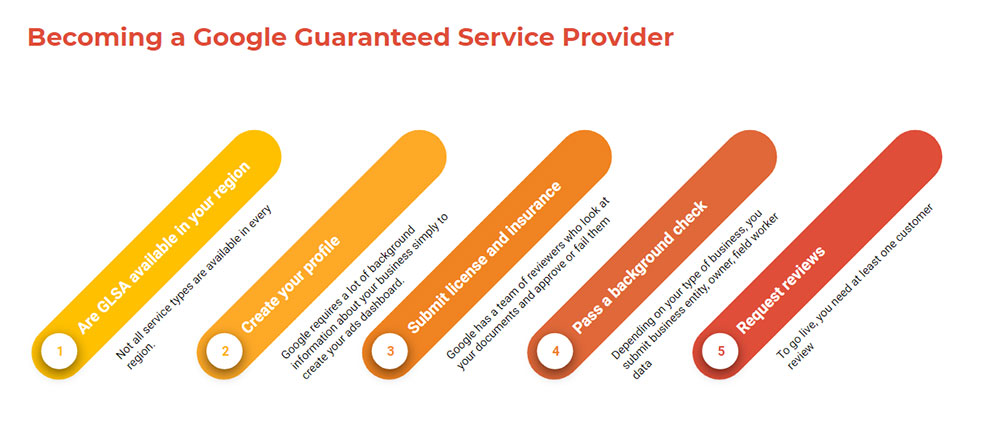 Check your eligibility and sign up if available.
Create your profile: Google requires a lot of background information about your business simply to create your ads dashboard.
Submit your license and insurance: Google has a team of reviewers who look at your documents and approve/reject them
Pass a background check: Depending on your type of business, you submit business entity, owner, field worker data for review
Request reviews: To go live, you need at least one customer review!
Be aware that passing the background check required to receive the Google Guarantee badge does take some time and effort on your part. If you'd like any assistance, feel free to connect with our team by emailing marketing@surefirelocal.com.
When you're ready to go live, your ads will look something similar to this.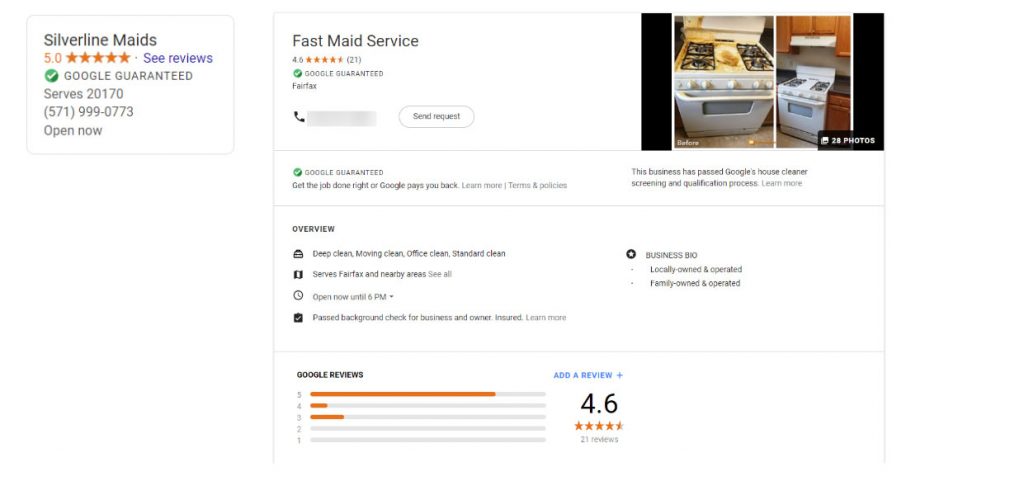 Local Business Benefits
We've already touched on the increased exposure Google Local Services Ads get in local search results, but what other benefits do these ads offer your local business?
Ads display a green Google Guarantee badge to signify you're a trustworthy and credible business
With ads that are click-to-call, customers choose you so you reduce time wasted following up with leads that aren't seriously interested or ready to act now.
Are pay-per-lead, instead of pay-per-click like other types of PPC advertising.
Able to dispute and get refunded for any leads that don't convert
Increased visibility in voice search because Google Assistant responds with Google Guaranteed provider first in spoken results
Best Practices
These recommended tactics can help you take full advantage of Google Local Services Ads.
Add all service types you want to generate leads for to your profile
Add any and all zip codes to your profile to increase reach
Manage your weekly ad budget
Request reviews from customers to increase your star rating
Respond immediately to your messages and phone calls because not doing so will hurt your ranking
Maintain consistent business information across your local listings
Optimize your Google My Business listing with complete data
Gain New Insights and Superpowers with an All-In-One Marketing Platform
Transform you and your marketing team into local marketing superheroes by utilizing the industry's most powerful platform. Custom-built by been-there-done-that local marketers for local marketers, you're able to leverage the tools you rely on every day together in one platform. Not only are you able to reduce marketing expenses because you no longer need to pay for each tool/service individually, but you can also gain new insights like never before through advanced marketing intelligence reports. See a demo of the Surefire Local Marketing Platform and discover how you can gain complete transparency of your marketing channels so you know exactly where new customers are coming from, the activities that drove them to convert, and how much it cost you.