The ways in which small, and local businesses have been able to market themselves on Google have changed dramatically over the past few years. While Google's algorithm is something no one outside of Google's team will ever truly understand, there are proven strategies that will enable you to broaden your local reach online and put the odds in your favor of showing up on a local search results page for the services or products your business offers.
To do that, however, one needs to have a strong understanding of what information Google asks of your business, and also the structure of a local search results page. Only then, when you know what rules of the game are, can you hope to find success.
That's what we'll learn about in this blog article:
Breakdown a Google local search results page section by section
Identify the 5 pillars of online visibility
Learn proven local marketing tactics that will broaden your reach across all of the ways potential customers can find your business on Google
Let's get started!
Breaking Down a Google Local Search Results Page
Let's begin with a simple Google search. We recently had a few terrible storms roll through town and I noticed that there is a small leak in the roof. I'll want to find a local roofing company to come out to my house and inspect it to determine if it just requires a simple repair or if this is a precursor to something much worse and requires a complete roof replacement.

I'll start with a search for "roofing companies near me" to see what that gets me.

You'll notice that the very first thing that appears at the top of my local search results page is a section you may not be entirely familiar with. This section shows Google Local Service Ads, a newer option within Google Ads that allows you to reach people searching for your services instantly because these ads show above all else.
At the time of me writing this blog article and pulling these screenshots from Google (8:23 am ET), only one of the 3 businesses shown is open, and they just happen to have the highest star rating. Guess who I'm going to call?

But say I want to continue scrolling to see what else I can find. Directly underneath the grid of Google Local Service Ads are the traditional Google Ads we all recognize and love. Because of extensions and the sophistication of the ad offering, as a business, you're able to display a lot more information about yourselves than you could with Local Service Ads.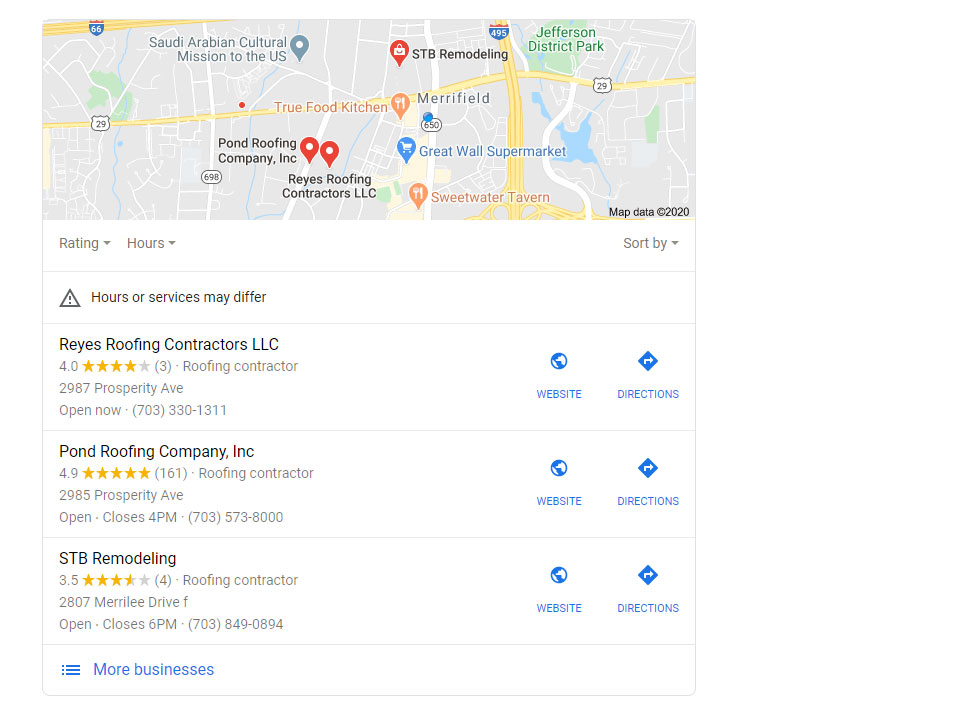 As I keep scrolling down the local search results page, the next section I come to is the Local Map Pack. This section here is powered by your Google My Business listing and the information it contains. Important things to consider here making sure your name, address, and phone number are correctly entered as well as getting reviews on Google.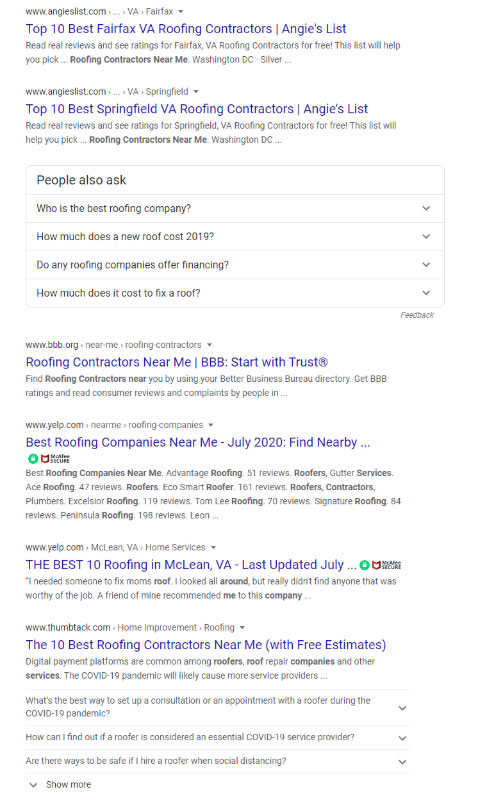 And then, at last, we arrive at the organic listings section of the Google local search results page. Here is where I can expect to find company websites, business listings, and social media profiles of roofing companies in my area.
If you look closely, you'll notice that just about all of these organic listings are not about any individual roofing company but a site that lists tons of companies. Angie's List, BBB, Yelp, and Thumbtack are all considered business listings sites. If you don't take business listings seriously or claimed your business on these sites and maintain an active presence, if I click on any one of these, I won't find your business…I'll find your competitors who do consciously manage and care for their online presence.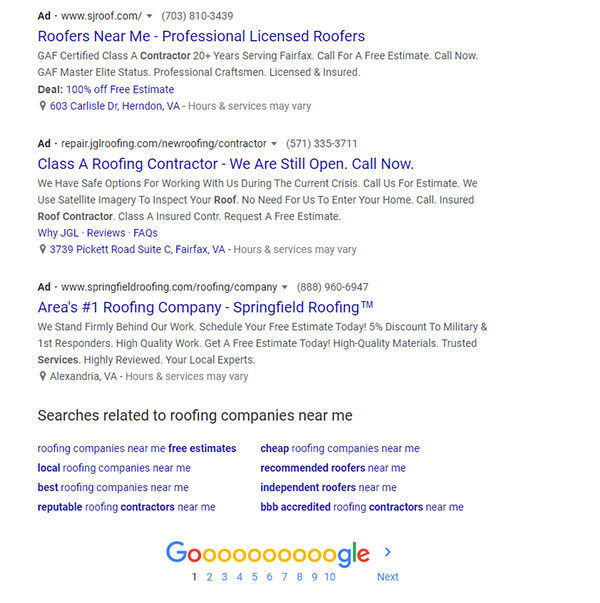 After I scroll past all the organic results on page 1 of Google, I'll find more Google Ads at the very bottom before it gives me an option to move to the next page.
Google Local Search Results Page Structure
So to recap before moving on, Google local search results pages are broken down into these key sections:
Tier 1: Google Local Service Ads
Tier 2: Google Ads
Tier 3: Local Map Pack
Tier 4: Organic results
It's important to note that these screenshots were pulled using my laptop. What if I were to enter the same "roofing companies near me" search using my phone because that's the device more and more people are using nowadays.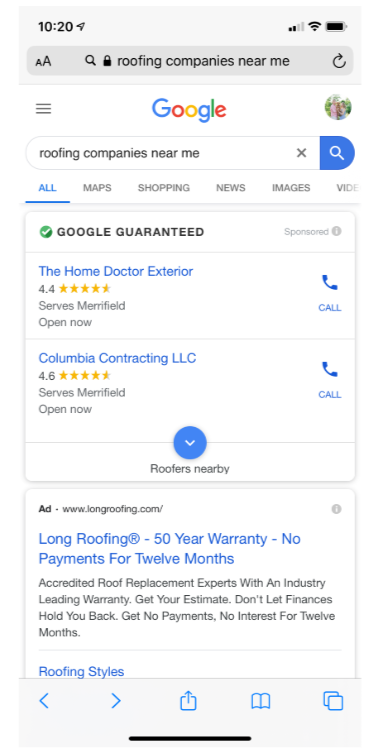 Google Local Service ads would be the first thing I see and also the majority of what I see. On mobile, these ads take up almost all of the local search results page, requiring you to scroll down to discover more.
When you're in a rush, you're more likely to call the first business you see that has a high star rating rather than take the time to scroll and hope you click on a reputable business listing. That means you'll more than always click a Google Local Service Ad or Google Ad listing.
Curious though to see on mobile, if I were to continue scrolling, I would come across another new section that allows you to search by photos. This section brings up a photo grid that shows companies by photos along with their star rating. This gives searchers the ability to see your quality of work right from the start.
Improve Your Local Ranking on Google
There are over 200 ranking factors used by Google to determine which local business gets more visibility over another in local search results. Therefore, it's critical to understand which ranking factors are the most significant and focus your strategy there. Let's identify the 5 pillars of online visibility.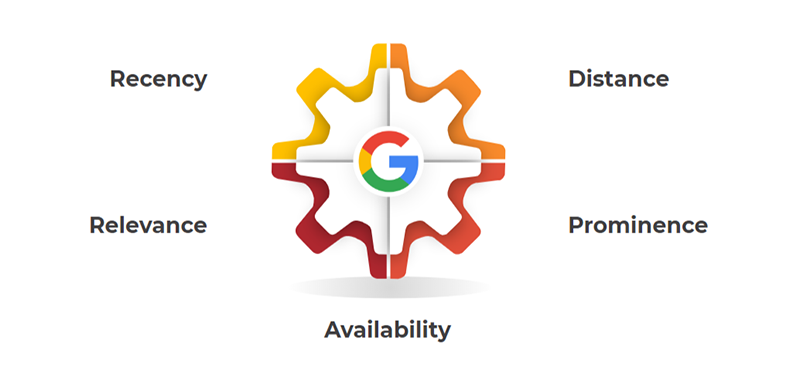 5 Pillars of Online Visibility
According to Google's own recommendations for local businesses, local search results are based on relevance, distance, and prominence; and that these factors are combined to help find the best match for a given search. At Surefire Local, we also like to add in recency and availability.
Recency
Relevance
Distance
Prominence
Availability
Let's take a closer look at what each of these pillars means.
Recency: How long ago was your listing updated relative to a person's search?
Do any of your listings still show that offer you ran which expired a few months back?
When was the last time someone posted a review of your business on Google, Facebook, Yelp, etc.?
Are you consistently publishing content like blog articles, photos, videos, podcasts, etc. across your online presence?
Relevance: How well does your listing match what someone is searching for?
Does your content include the same keywords, queries, or questions that the searcher used?
Is what you have to say insightful and helpful?
Distance: How far is your listing from the location of the searcher?
Have you claimed your Google My Business listing and other popular listings sites like Facebook, Nextdoor, Yelp, Angie's List, Houzz, Thumbtack, Porch, etc.?
Have you created location-based content on your website?
The more listings you have, the more proximity signals you create for your business to increase the odds of appearing nearby potential searchers.
Prominence: How well-known is your business both in the offline and online worlds?
Have you built a trusted brand for your business?
Are you a member of local charities and organizations within your community?
How many Google reviews does your business have? What's your star rating?
Do other websites link back to your website?
Availability: Is your business open at the time of someone searching and are you easy to contact?
Do you have consistent information like hours of operation, email address, and phone number across all your listings?
Have you entered complete data to your Google My Business listing?
If you can't find your business in local search results, look at what information is found online about your business. The more complete and accurate your information is, the easier you'll be able to match with the right searches.
The Surefire Local Marketing Platform helps you maintain consistent and accurate information across 80+ listings by creating one central source of truth for your business. The platform enables you to make changes to all these listings at once, from within the platform itself, that then get shared automatically across all your listings with just a few clicks. Can your business be found on 80+ sites? Can you imagine adding a new phone number to 80+ listings one-by-one?
Suggested Reading
Local Marketing Tactics to Broaden Reach in Your Desired Markets
With an understanding of the structure of a Google local search results page as well as the pillars of online visibility that influence your local ranking, let's shift gears to our final section and discuss local marketing tactics that are proven to broaden your reach in local markets, starting from the top of the results page on down.
Get found in Tier 1 of Google: Google Local Service Ads
If you're a local business that provides a service that requires an immediate response, you're eligible to get started with Google Local Service Ads.
Google Local Service Ads are a valuable and cost-effective way for local businesses to reach potential customers because these ads:
Have increased exposure at the top of Google search results
Receive a green Google Guarantee badge to show you're a trustworthy business
Reduce wasted time because these customers choose you
Require you only to pay for valid leads; allowing you to dispute and get refunded for any that aren't a fit
To get started, check your eligibility and then proceed to sign up. You'll have to pass a background check to earn the Google Guarantee badge. Once you're up and running, some best practices to get the most of your Local Service Ads are:
Add all service types you want to generate leads for to your profile
Add any and all zip codes to your profile to increase reach
Manage your weekly ad budget
Request reviews from customers to increase your star rating
Respond immediately to your messages and phone calls because not doing so will hurt your ranking
Maintain consistent business information across your local listings
Optimize your Google My Business listing with complete data
Get found in Tier 2 of Google: Google Ads
Next up is to launch Google Ads. If you're not eligible for Google Local Service Ads or just want to further increase your reach, running Google Ads campaigns is a surefire way to get in front of the right prospects. The catch 22 is if you don't know exactly what your doing (managing ads requires a lot of skill and is a full-time job on its own) then you can quickly waste your budget and be left with a lot of bad leads and no more dollars to invest to generate better quality leads.
Managing and running effective Google Ads campaigns is not a "set it and forget it" activity. Some best practices are:
Define your target audience by looking at what characteristics, behaviors, and devices your ideal customers have in common.
Choose a bidding strategy that makes sense given your budget.
Manage keywords to make your ads a better match to your ideal customers' search queries.
Write compelling ad copy to spark interest and make your business stand out from the crowd.
Optimize your landing pages. Where Google Local Service Ads are a click-to-call type ad, traditional Google Ads send clickers to a landing page to convert through a form, email, or phone call. That makes the content, design, and speed of your landing page is critical in your ability to convert visitors.
Leverage remarketing ads to stay top of mind as your prospects continue along their search journey and visit other websites.
Get found in Tier 3 of Google: Local Map Pack
To rank as one of the three businesses in the Local Map Pack, you'll want to focus on creating location-based content. Some best practices are:
Claim your Google My Business listings and complete your profile by adding in your name, address, phone number, services offered, service area, and photos and videos.
Create Google Posts and share content such as offers, blog articles, and announcements directly on Google as part of your business's Knowledge Panel.
Request and respond to reviews on Google to increase the number of your reviews while also building up your star rating.
Ask your own questions and answer others' questions in the Q&A functionality of your Google My Business listing
Maintain accurate and consistent information across your online presence: website, Google My Business, business listings, reviews sites, social media platforms, etc.
Get found in Tier 4 of Google: Organic
And lastly, getting found in organic search results is directly tied to your ability to maintain and optimize your website and overall online presence. Recommended tactics include:
Add structured data and local schema into your website's code.
Create location-based pages on your website such as an Areas Served page.
Create and publish relevant content
Claim and add your business to as many business listing sites as possible
Maintain an active presence on social media platforms
Get reviews on your website
Submit your business for local awards and recognitions.
Suggested Reading:
Google Adds a New "Reviews Attributes" Feature to Google My Business
Gain Local Marketing Superpowers with an All-In-One Platform
Transform you and your marketing team into local marketing superheroes by utilizing the industry's most powerful platform. Custom-built by been-there-done-that local marketers for local marketers, you're able to leverage the tools you rely on every day together in one platform. Not only are you able to reduce marketing expenses because you no longer need to pay for each tool/service individually, but you can also gain new insights like never before through advanced marketing intelligence reports.
See a demo of the Surefire Local Marketing Platform and discover how you can gain complete transparency of your marketing channels so you know exactly where new customers are coming from, the activities that drove them to convert, and how much it cost you.