Our lives have rapidly changed over the past few weeks as coronavirus (COVID-19) spreads across the US. As the US government's plan to help small businesses through this crisis unfolds, we can now begin to see a way through it. At Surefire Local, we're looking across thousands of advertisers to understand the impact of COVID-19 on PPC advertising. We continue to monitor several trends that have emerged over weeks to find viable, actionable strategies for our advertising customers to adjust their campaigns to reduce the negative impact of the crisis.
In general, over the past couple of weeks, we are seeing reduced search volumes of lower funnel search terms, but people are still searching, clicking and becoming leads in our customer's pipelines.
Based on this analysis, we remain confident in recommending to small businesses that they continue to use search advertising throughout the COVID-19 crisis to stay in front of people interested in and in-market for their services. We also recommend updating their messaging with offers, financing, trust factor and open for business messaging.
Additionally, Google announced $340 million in Google Ads credit to small businesses. This help from Google will likely arrive later in Q2 to help your business grow (more information to come). Plus, if you are thinking about testing search advertising but aren't sure how to get started, Surefire Local can offer your business a $150 Google Ads credit promotion.
Why should your business invest in paid digital advertising now?
People are in their homes, planning improvements and using the internet – a lot.

Search captures people in the buying cycle today. You should be there for them. Plus, you only pay for clicks.

More internet usage means more display inventory at lower costs, making it more affordable to build awareness and audiences.

Do not lose the equity you've built in your campaigns and brand, because you will have to rebuild.
Google Ads Trends for the Home Services Industry
Roofing:
According to Google trends, roofing searches are holding steady and there was a slight increase last week. (see Google Trends data).

Surefire Local roofing customers are seeing lower search volumes, but maintaining similar conversion rates, cost per clicks and cost per leads.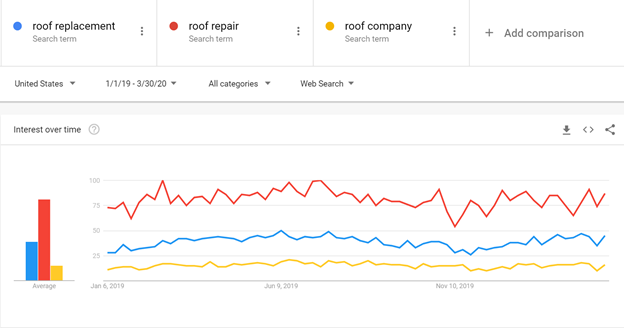 Windows
Window replacement searches declined over the past two weeks with the news of COVID-19, but we are monitoring a small upward trend emerging over the past couple of days.

Surefire Local windows customers are seeing lower search volumes, but are also seeing higher average conversion rates (+18%) and lower average CPLs.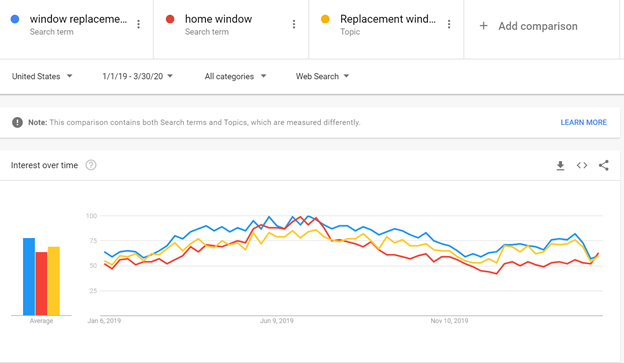 Siding
Siding replacement search patterns are less consistent YoY, but there are still a good amount of searches being performed in March.

Surefire Local siding customers advertising search volume is trending lower and we are seeing lower cost per clicks (-15%), but we are also seeing lower conversion rates and 17% higher CPLs.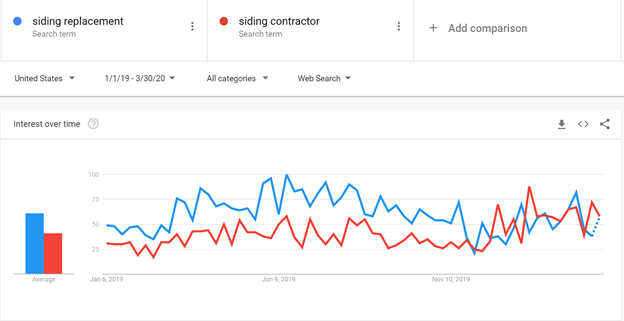 HVAC
HVAC searches are holding steady, even growing. This is a necessary service during the COVID-19 crisis and should look to expand their capacity.

Surefire Local HVAC customers advertising search volume is trending higher at a normal CPCs and CPLs, while conversion rate increased slightly as well.