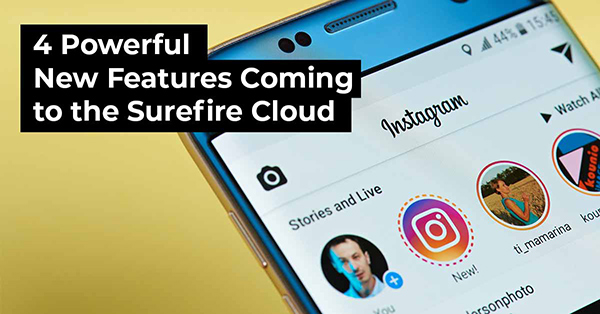 Thousands of businesses in the home improvement industry are using the Surefire Local Marketing Cloud to reach more customers and accelerate their digital marketing success. But starting this summer, you'll see our hardworking marketing platform work even harder.
We'll soon be rolling out four powerful new features to help you control, manage and optimize even more essential elements of your digital marketing. In addition to Advertising, Mobile Lead Management, Content Publishing, Online Visibility, Reputation Management and Analytics & Benchmarking, the Surefire Cloud will now include:
Google My Business Posts
You'll be able to create and publish content that appears directly in Google Search. Benefits include:
Highlight upcoming events, local-specific content, time-sensitive offers, etc.
Get greater visibility for featured posts (vs. publishing on Google Plus).
Drive more website visits and actions using links and CTA buttons.
Minimize steps needed for customers to take action.
Present a complete picture for Google.
Boost trust with potential customers.
Google My Business Insights
You'll be able to get an inside look at how customers are finding your business online. Benefits include:
View key metrics like how people find your business listing on the web and what they do once they find it.
Monitor your local presence and accurately gauge where you stand compared to the competition.
Get a clear idea of the strength of your Google listing optimization strategy.
Know which aspect of your visibility needs more work: SEO visibility for generic service terms, or brand-specific visibility in the region where your business operates.
Use off-site engagement data and impressions for non-brand or "category" keywords to more effectively optimize local listings.
Instagram for Business
You'll be able to publish directly to Instagram for Business without having to go through your phone. Benefits include:
Promote your business on a highly engaged platform with 500+ million active daily users.
Organically build a following that will stay connected with your brand.
Drive more website visits and actions using links and CTA buttons.
Hone in on your specific target audience via cold ad targeting.
See clear ROI through account insights.
First-Party Reviews
You'll be able to send review requests that get posted directly to your website. Benefits include:
Earn a different kind of credibility related to direct customer engagement.
Help your business get a star-rating in Google search results.
Improve the click-through rates on your review pages.
Help improve your business's position in local search results.
Request a Demo
To learn more about these exciting new features, request a demo of the Surefire Cloud and get expert analysis of your digital marketing, give us a call at 888-804-8685 or email marketing@surefirelocal.com.