Introduction
Digital transformation has caused a monumental shift in the way local businesses of today operate, grow, and engage with consumers. These effects can not only be seen in the way businesses market and advertise, but also in all core processes of the business like accounting, communications, and file management.
In a world where your local business has to be ready for anything, those that can digitize and adapt quickly will set themselves apart from the competition.
In the Local Business Guide to Digital Transformation, we're going to discuss the following:
Understand what exactly digital transformation is and what it looks like in practice

New trends and environmental influences that accelerate the need for local businesses to digitize

A few common misconceptions and threats that can sabotage your digital transformation

Benefits that can help your local business thrive once you've digitized core business processes

A 5-step action plan to help guide your local business at each step of your digital transformation journey.
Let's embark on a digital transformation journey together!
What is Digital Transformation?
Digital transformation takes into account the ways in which technology fundamentally changes the way people and businesses interact with one another. Technology has acted as a catalyst for revolutionizing society. As people continue to adopt technology and digital tools in new and innovative ways, it's created new playing fields for local businesses to operate in.
To meet the ever-increasing demands of consumers, businesses should look to digitize their core processes and strategies. Digitizing your local business simply means bringing offline business practices and processes online to improve productivity and become more efficient.
This in practice could look like:
Leveraging email marketing software to send targeted campaigns in place of direct mail.

Having new customers e-sign contracts instead of signing a printed copy

Tracking and measuring finances/expenses online vs. a ledger

Running Google, Bing, and Facebook ads instead of an ad in the local newspaper

Hosting virtual sales consultations in place of in-person consultations
2020: The Year Digital Transformation Accelerated Beyond Anything We Ever Imagined
We have seen our way of life be attacked by a global pandemic in 2020, causing a "new normal" to emerge. With it comes new concerns and challenges for local businesses. As #StayHome social distancing measures have been put in place, we've watched traditional business practices and processes crumble and fail. When in-person interaction is no longer a viable option, it's time to think digitally. 
If digitizing your local business wasn't a priority prior to the coronavirus (COVID-19) pandemic, it certainly is now.
"There is a tendency to see digital technology as an opportunity or choice. However, the mounting pressures of a rapidly shifting business landscape are turning digital from a choice into an imperative. The longer a business waits, the more marginalized it will become." John Hagel, Co-Chairman of the Centre for the Edge at Deloitte
The effects of digital transformation and the positive outcomes it can have on your local business are evident with these two reports.
Mary Meeker's Coronavirus Trends Report
Mary Meeker is best known for her annual Internet trends reports and in her Coronavirus trends report, she states that the local businesses finding the most success during the pandemic are those who embrace digital transformation and have:
Cloud-based business functions where workers can take their computing devices and work nearly anywhere.

Products that make businesses more digitally efficient.

An easily discoverable online presence that seamlessly helps customers

Broad social media presence
Localogy's Small Business SaaS Adoption Trends
Localogy is a local trade association focused on helping small businesses leverage technology to grow. SaaS is an abbreviation for software as a service and has become a dominant force in the technology industry as businesses seek to help other businesses digitize and adapt.
In Localogy's Small Business Saas Adoption Trends report, their findings show five key trends:
1) SaaS products are quickly becoming the default technology for many small businesses as adoption rates keep increasing.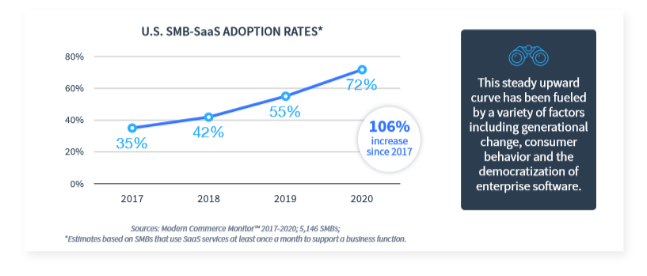 2) Small businesses are adopting SaaS solutions across all areas of the business.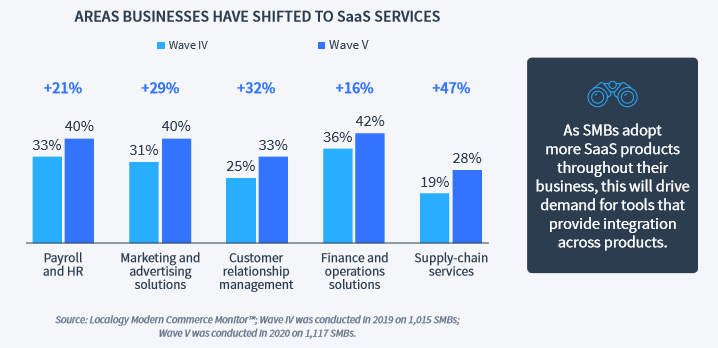 3) The top reasons why small businesses have adopted SaaS technology including wanting to increase efficiency and have greater flexibility in engaging customers.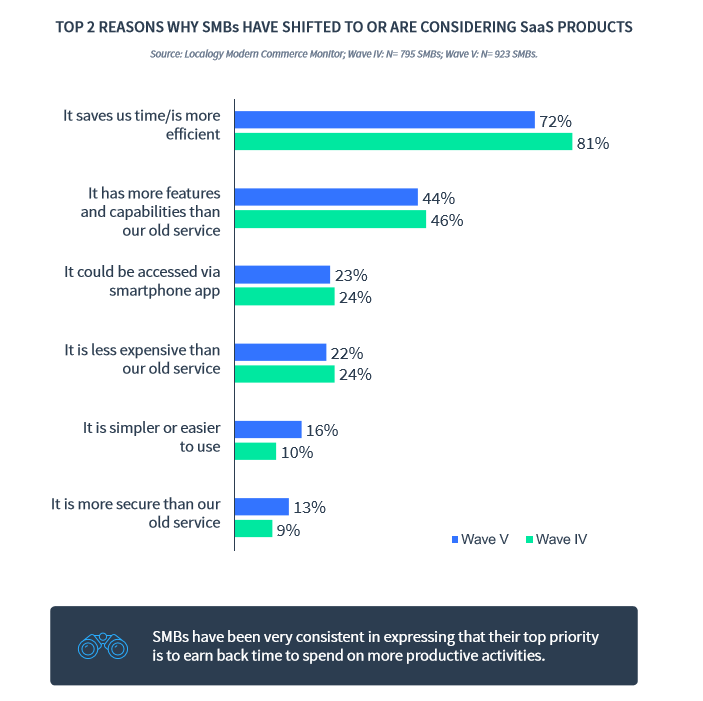 4) While also looking at reasons why some small businesses are hesitant to adopt technology, such as they are comfortable and aren't aware of new solutions.
5) Small businesses that leverage software to replace manual processes on average spend 65-75% more time on customer-facing activities than those that do not.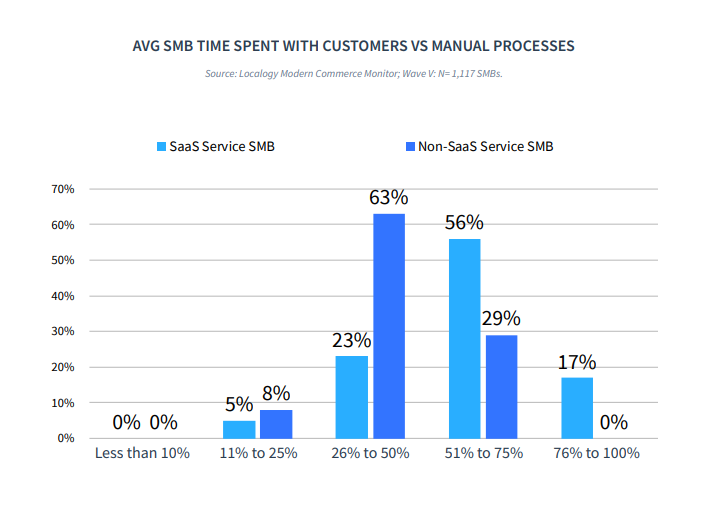 Common Misconceptions and Threats to Achieving Digital Transformation
Contrary to popular belief, digital transformation does not have to take years or even months to achieve. If that was the case, then local businesses wouldn't have been able to adapt so quickly to the coronavirus (COVID-19) pandemic. While it's true that it doesn't have to take forever, it is equally important to understand that true digital transformation is evolutionary and continually changing. Meaning, there will always be a new technology that gets introduced that can have a greater impact on your business than a technology you currently have in place. It's up to you and your team to decide which digital tools to adapt and when to replace one with another. We'll dive into this more later!
Threats to Digital Transformation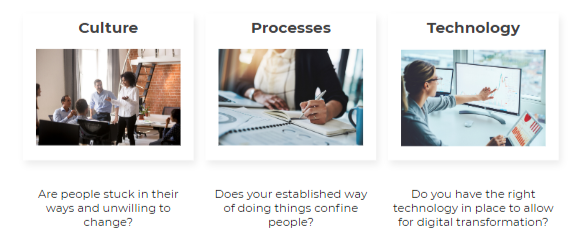 There are three common threats that could stand in your way of achieving digital transformation success.
Culture: Are your employees stuck in their ways and unwilling to change?

Processes: Are there practices and measures in place that restrict your employees' ability to think creatively and adapt quickly?

Technology: Are you leveraging the right digital tools to allow for digital transformation?
True digital transformation is more about empowering people than it is the business itself. When you have the right team in place working together with the right mindset and leveraging the right tools, there is no limit to how far you can grow your business. An important caveat is that while it's easy to find and leverage just any digital tool for your marketing, finance, communications, etc. you want to build a technology stack for your local business that creates synergy for ultimate efficiency, not silos, which only create more barriers.
Why Digital Transformation is Critical to Growing Your Local Business
Now that you have a better understanding of what digital transformation is, let's shift focus to discuss why digitizing your business is no longer a choice, but a necessity.
For starters, if you are someone who's been resistant to digital transformation, you've likely asked yourself questions like:
Is my team following up with new leads quickly enough?

Is my sales team working with poor quality leads or are they not working hard enough to get close rates higher?

Do my customers feel like they're a priority?

Am I wasting money and resources on the wrong marketing activities?

Why does it feel like my team is never in communication with one another and duplicating tasks?

Where did I leave my notebook again?
That's no place any proud business owner wants to be in. However, by digitizing your local business practices and processes, you're finally able to solve a few of the biggest local marketing challenges, such as:
Not knowing what is and isn't working and how marketing activities are attributing to ROI and revenue

Not having the data and insights you need to make smarter business decisions

Lacking visibility and transparency into the activities being done across your organization
Now let's look at some of the reasons why digital transformation is critical in your ability to build and grow a trustworthy business.
8 Reasons Why You Should Digitize Your Business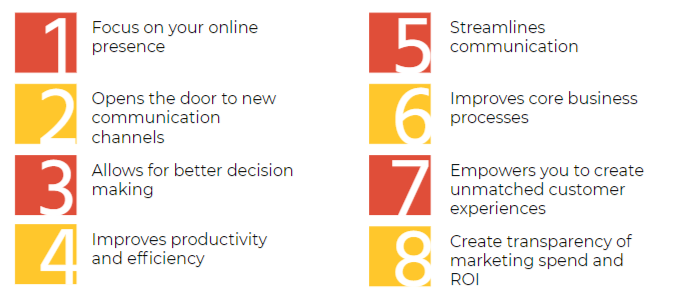 1) Digital transformation helps you focus on growing your online presence.
As Mary Meeker's Coronavirus Trends report shows, the local businesses that are the most successful are ones that have invested in growing their online presence. 
Now, more than ever, people rely on being able to find accurate, up-to-date information about local businesses online. When your business information isn't managed, it could mean missing out on opportunities to reach more local customers. 
Digitizing core practices and processes helps you:
Get found on Google and other search engines

Increase local search visibility across all channels

Generate higher quality leads that result in better conversions
2) Digital transformation opens the door to new communication channels.
When you are not catering to the demands of your customers, you risk losing relevance with competitors that are. People expect to find immediate answers to their questions, and that often takes the form of instant messaging a company representative through live chat on the website, Facebook or a chatbot. When you're busy out in the field working with customers and you haven't digitized your lead flow communications? Well, that means you're missing out on opportunities to close more deals.
In addition to improved communication, new opportunities also appear. By leveraging search engine marketing campaigns like Google Ads, Facebook, Ads, and Bing Ads, you're able to better reach people who are looking for your services.
Digitizing core practices and processes helps you:
Leverage live chat, chatbots, and social media conversations to engage customers on their own time

Communicate in more comfortable and natural ways. 

Follow up on new leads and close deals at any time, 24/7
3) Digital transformation helps you get the data and insights you need to make. smarter decisions.
Without having the right software implemented, you're not able to collect and analyze data that provides transparency into your marketing efforts. When your business practices are plugged into technology like an all-in-one local marketing software, you can see the ROI of your specific marketing activities whenever you want.
Digitizing core practices and processes helps you:
Run your business by the numbers, not just instinct

Identify new channels to drive leads and customers

Discover areas within your business that can be improved

Find out how your leads and customers are finding you to build a better customer journey
4) Digital transformation helps you and your team improve productivity and become more efficient.
Business is no longer done just in the office between the hours of 9 am to 5 pm these days but at any moment. Also, if your local business employs a number of people at multiple locations, figuring out what each person is working on at any given time is impossible without some form of software.
Digitizing core practices and processes helps you:
Manage and run your marketing all from one place

Gain 360° visibility into the work being done

Save time and reduce stress

Create transparency of ROI from marketing activities
5) Digital transformation streamlines communication across your organization and prospect and customer base.
By scientific definition, a physical notebook cannot be in two places at one time. Meaning, the information one person has access to at any given time, isn't the same as someone else. When you digitize your local business, you're able to store and share all information equally across teams. It also helps prevent information from being lost as well. It's much easier to lose or misplace a piece of paper than it is an online document.
Digitizing core practices and processes helps you:
Easily communicate across your entire organization, marketing agency, vendors, partners, etc.

Keep a log of all communications sent and received, listen to voice call recordings

Host virtual appointments and sales consultations to offer your prospects greater flexibility
In a Think with Google newsletter, Google shared insights that can help you lead effective virtual meetings both internally and with customers.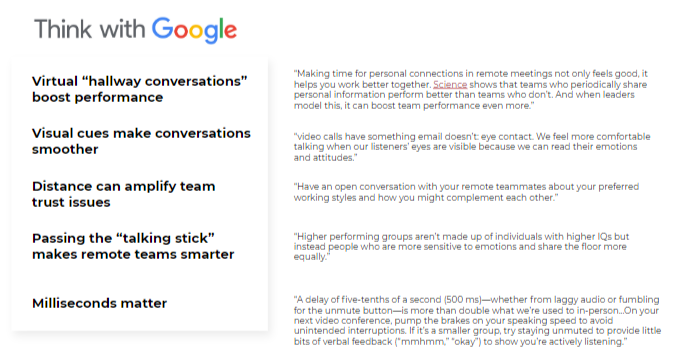 Takeaways:
Virtual "hallway conversations" can boost performance and help teams feel closer connections with one another.

Visual cues make conversations smoother, so be sure to maintain eye contact and keep an upbeat posture and mentality.

Distance can amplify team trust issues, making it important to have open and honest conversations.

Passing a virtual "talking stick" makes remote teams work smarter because it helps people be more sensitive to emotions and let everyone engage in conversation equally.

Milliseconds matter so try to talk slower than you would normally in person and keep your mic muted when it's not your turn to speak.
6) Digital transformation makes it easy to improve core business processes.
Local businesses that stick with traditional practices and processes move slower than those that digitize. Speed is everything in today's fast-paced consumer-driven environment. Being agile and having the capability and online presence to capitalize on new trends and tools can be the difference between a potential customer calling to inquire about your services or finding a competitor.
Digitizing core practices and processes helps you:
Ensure everyone has access to the same information, at any given time

Never have to question whether something was completed or not

Prevent important information from getting lost
7) Digital transformation empowers you and your team to create unmatched customer experiences.
Remember Localogy's SMB SaaS Adoption Trends Report? Local businesses that are able to adopt software to replace manual processes are able to spend 65-75% more of their time on customer-facing activities. Having that extra time goes a long way when you're trying to create unmatched customer experiences that hopefully inspire referrals and online reviews. Ultimately when you leverage technology and digitize, it brings you closer to your customers. 
Digitizing core practices and processes helps you:
You're there for the customer at every step

Create personalized "journeys" for your customers to take

Respond and follow up with concerns and problems immediately
8) Digital transformation creates transparency in marketing activities and ROI.
When you integrate software and digital tools into your business processes, it eliminates guesswork, meaning you no longer have to worry whether or not your marketing is working, and if you're wasting money. With an all-in-one local marketing software, you're able to see all of your active and upcoming campaigns across your online presence and the results of each together in one place.
Digitizing core practices and processes helps you:
See what's working and what isn't with your marketing

Attribute marketing activities to ROI
Each of these eight reasons plays a role in the larger picture: Adapting your business to meet the challenges of an evolving customer journey.
Understanding How Digital Transformation Has Changed the Customer Journey
It wasn't that long ago when the customer journey was quite simple. To search for a local business, one would need only to pick up the Yellow Pages or ask a friend or family member and then call the business to inquire about their services.
Nowadays, a customer can make significantly more touchpoints and interactions with a local business before making an inquiry. Here are a few examples of how complex customer journeys have become.
Customer Journey A
Bill is a homeowner looking for a window replacement. First, he searches on Google for window replacement companies near his city. As he's doing research, he notices a Google Ad for a window replacement company. He decides to look closer at that company and checks out their online reviews. After reading about the 4.7 star-rated business, he browses their website to make sure the company serves his area and offers the exact window style he needs. Then he finally fills out a "Contact Us" form so that he can receive a quote.
Customer Journey B
Sue is a homeowner in need of having her A/C unit fixed. She decides to post on Facebook asking for a recommendation of a trusted HVAC company. After receiving a few recommendations from her friends, she searches for each HVAC business on Google, leading her to visit each website. As she's browsing one of the sites, she stumbles upon an embedded YouTube video of the business owner describing how he went into business. She jumps over to the business' YouTube channel to watch a few more videos. Before she decides to make a phone call, she checks in with her Nextdoor community to find out if any of her neighbors have had any work done by the business. Once she is done collecting her research, she decides to call the HVAC company to get a quote for air conditioning repairs.
Customer Journey C
Rob is a homeowner looking for his roof to be replaced as he knows the storm season is fast approaching and his roof won't be able to withstand the heavy rain. As he's thinking about it, he says out loud, "Hey Siri, show me roofing replacement companies". After looking at the results on his phone, he clicks the first company and is transferred to their website. As he's scrolling through, he notices their online reviews being pulled onto their home page. He clicks the reviews and jumps over to the business' Google My Business page. There, he sees some before and after pictures of roof replacements in the photo gallery. He sees a roof that he likes and decides to give the company a call.
The only way to track and measure complex customer journeys is through software. When you digitize, you're able to leverage technology at each stage of the customer journey to paint a complete picture of how your customers engage and interact with your local business.
Now let's walk through how you can kickstart digital transformation within your local business and see it through.
How to Achieve Digital Transformation
Digital tools and technology can help you solve traditional business challenges while improving efficiency and helping you and your team generate better results faster and with fewer costs. Below is a 5-step strategy that can help you launch a digital transformation within your local business and guide you through as you adapt and continue to grow.
5-Step Local Business Digital Transformation Action Plan
Step 1: Create a plan
Establish a single path forward for your entire organization to digitize in an efficient and effective way.

Create a Digital Transformation Leadership team to drive initiatives and keep people honest. This team should include employees at all levels of the business and their mission is to identify barriers across your company's culture, technology, and processes to help make digital transformation easier.

Ensure there are no communication gaps (one of the biggest deterrents!).

Set a timeline and be open about expectations.
Step 2: Provide support
Ensure your employees are comfortable and ready for change.

Get company buy-in to ease the transformation.

Provide all necessary tutorials and training for support.

Make sure there are no gaps in the customer experience journey during the transformation.
Step 3: Select technology
What tools will I need to go from paper to paperless?

What are the pros and cons of building a tech stack on my own with point-solution software vs finding one that's all-in-one?

Be strategic when choosing tools to manage your website, finances, content, online reviews, business listings, search engine marketing, communications, etc.
Step 4: Align your team
Do I have the right people in place?

How can I help train and nurture my employees?

How will you collectively track and measure data?

Get feedback on how the transformation is unfolding and address any concerns.
Step 5: Continuously adapt
What processes can be improved now that I have the technology in place?

What new opportunities are there for lead generation?

Is there a better tool to try?

How can we continue to get better?
When to Seek Help During Your Digital Transformation
Software and new technologies help to improve productivity and increase efficiency so you, in turn, can spend more time with your customers. In fact, local businesses that are able to do just this see satisfaction levels increase by 46%. However, as technology continues to change the customer journey, it's become nearly impossible to manage it all by yourself without making a significant investment in time and resources. When you're already busy as it is running and growing the business, it's worth exploring how a marketing partner can help.
As we've discussed throughout this guide, it's also not just enough to find a few digital tools that can help your business digitize and adapt to changing trends. For the best outcomes, you need to build a technology stack for your local business that works together in concert, helping you build a complete online presence.
In Localogy's SMB Saas Adoption Trends report, 73% of small businesses said they prefer to work with a single software company that could address most or all of their business needs. That's where a company like Surefire Local can help. Our technology – the Surefire Local Marketing Platform – helps make digital transformation easy by giving you an operating system to control all areas of your marketing, from anywhere, with transparency and visibility into the ROI of your activities. Rather than learn (and pay for) a dozen different tools, Surefire Local Marketing Platform can be your go-to platform for your entire business.
Request a demo to see how the Surefire Local Marketing Platform can help you easily manage your website, search engine marketing, online reviews, content, digital assets, social media, business listings, email marketing, customer communications, and more all in one place.

What is Digital Transformation?
2020: The Year Digital Transformation...
Common Misconceptions and Threats to...
Why Digital Transformation is Critical...
8 Reasons Why You Should...
Understanding How Digital Transformation Has...
How to Achieve Digital Transformation
When to Seek Help During...