Competition can be fierce in the home services industry; whether you work in roofing, HVAC, windows, or renovations/remodels, the chances are pretty good that you have strong local competition. And ultimately, your visibility and rankings on Google's local search results can make or break your business. Specifically, your presence on these search results pages could be the difference between a potential customer stumbling across your business website or that of the competition.
By having a better understanding of the different tiers of Google's local search results and how you can optimize your accessibility on each tier, you can gain a leg up over the competition. From there, you may have an easier time finding new clients, boosting your own local reputation, and growing your home services business.
Understanding the Tiers of a Google Local Search Results Page
When somebody does a Google search for a local home services contractor, there is a specific order in which Google displays the results. For example, if somebody is in need of emergency furnace repair, he or she may search "furnace repair near me." From there, the results displayed to them will essentially be broken up into four tiers as described below.
Tier 1: Google Local Service Ads
The first thing the person will see when they search for "furnace repair near me" is a sponsored list of local HVAC companies that have paid to run Google local service ads. This section typically displays a few local businesses that offer the services (furnace repair) in question. Each ad will display the name of the business, the total star rating based on online reviews, the company's service area, and any other relevant information about the business (such as contact phone number and business hours, if available).
Tier 2: Google Ads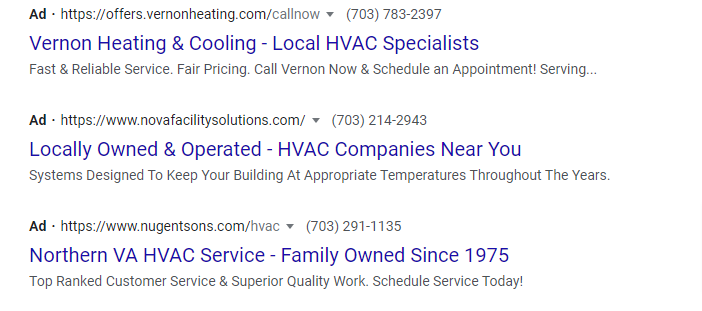 Below the results for Google Local Service Ads, you may also see a list of "traditional" Google Ads for businesses that suit the search query. These ads are similar to the Google Local Service Ads in the sense that they are paid for by the individual businesses, but they also tend to include more information (usually drawn from the website itself). Pairing Local Service Ads with Google Ads can give your business a nice 1-2 punch at the top of local search results if you're able to get your positioning and targeting just right.
Tier 3: Local Map Pack
Below the sponsored results is the Google Local Map Pack, which typically consists of three relevant businesses that have been chosen by Google's unique algorithm. These results are displayed underneath a map of local businesses and are based on a number of factors, including the company's Google My Business listing page.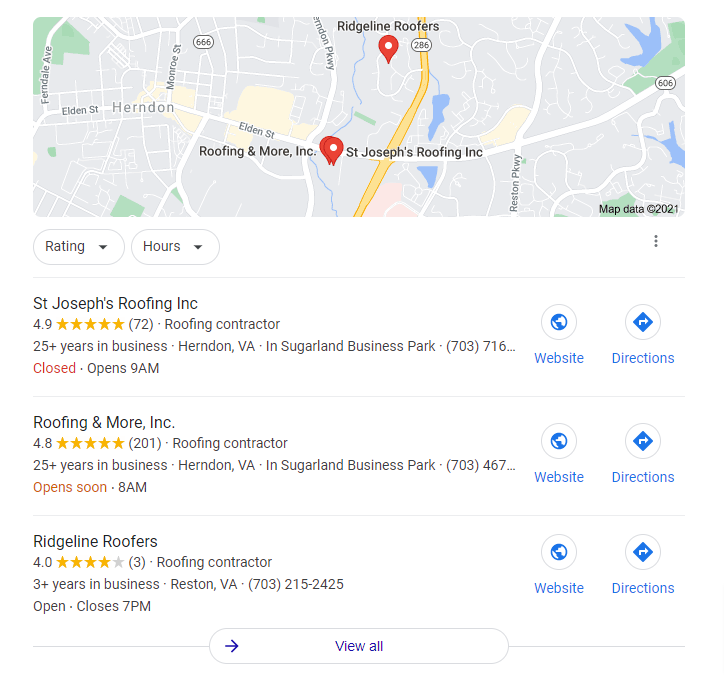 Tier 4: Organic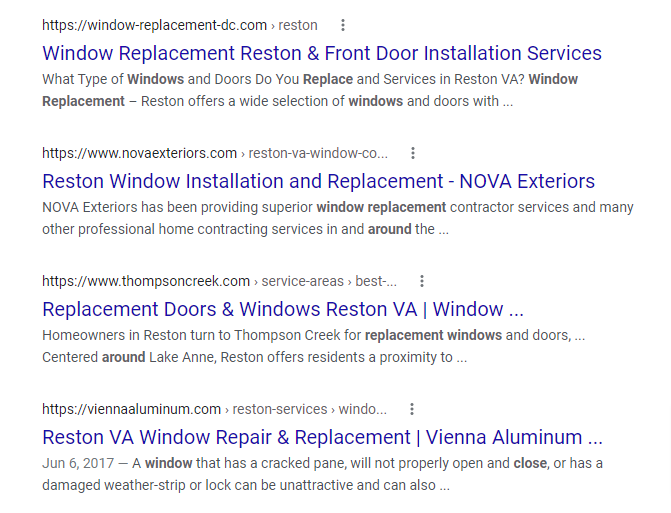 Finally, below all sponsored content and the Local Map Pack is a list of organic search results related to the search query. For a person searching for "furnace repair near me," this will consist of a list of local HVAC repair companies and direct links to their websites or sites like Angie's List, Yelp, and BBB.
The Key to Building a Digital Footprint for Your Home Services Business
Whether you're looking to rank among the top of the organic search results, the Local Map Pack, or anywhere else on Google's search results, there are a handful of factors that should influence your marketing decisions.
Relevancy
Perhaps the most important pillar of building a digital footprint for a home services business is overall relevancy. This refers to how relevant your content is to your potential customers. When a potential customer is searching for information on a new roof, for example, your roofing business will probably rank better if you have plenty of content on your website and Google My Business listing about your specific roofing services (repair, installation, inspections, etc.). The more insightful and helpful this information is to your readers, the better off you'll be.
Recency
Of course, it's not enough for your content to just be relevant; it's also important to demonstrate that you're frequently updating and improving your website and listings. Taking time to respond to online reviews, post new blogs, and upload new photos/content to your Google My Business listing can go a long way here.
Prominence
Your prominence and reputation within your industry can also reflect on your online footprint. For example, if you're a part of any industry-specific boards or organizations, be sure to include this on your website and elsewhere on the web. Having backlinks to your site and having plenty of great reviews can make all the difference in setting yourself apart from the competition, too.
Distance
This is one that you don't have any control over. It refers to how close your business is to the person searching for your services. While you can't exactly control your distance from the searcher, you can make sure your business page has plenty of geo-focused content to make yourself stand out. You should also be sure that you have profiles set up and/or claimed on third-party sites like Angie's List, Thumbtack, and the like. After all, people often use these services to find local home services contractors.
Availability
Last but not least, your availability plays a major role in your online footprint—especially in the home services industry, where clients are often looking for professionals to perform immediate work. This is where making sure that your hours of operation and contact information clearly posted is so important.
Boosting Your Accessibility for Each Google Local Tier
Now that you have a better understanding of the different tiers of Google's local search results and the five pillars of optimizing your online presence, there are some steps you can take today to boost your accessibility within each Google local results tier.
Google Local Service Ads
Most businesses in the home services industry will be eligible to sign up for Google Local Service Ads. That's because these ads are reserved for businesses that provide an immediate response to a local service request.
To take advantage of this opportunity, start by confirming your eligibility through Google directly. From there, you'll need to pass a "background check" of sorts to confirm your business. Once you've done so, you can fill out your Local Service Ads profile to maximize your visibility. This should include adding all relevant service types to your profile, as well as any ZIP codes your business serves. You'll also need to set up a weekly ad budget, since this is a paid ad position. The good news? You only pay for the hits you receive, so it's pretty low-risk from a marketing standpoint.
Google Ads
While most home services businesses will be eligible for Google Local Service Ads, you still want to use Google Ads to further boost your online visibility. To make the most of your Google Ads budget, be sure to:
know (and define) your target audience of customers/clients
set up targeted keywords based on your business offerings
focus on your website's landing page
develop and implement a content marketing strategy
Local Map Pack/Google My Business
Unlike with Google Local Service Ads and Google Ads, you don't pay any money to advertise on Google's Local Map Pack. Still, there are some steps you can take to improve your chances of showing up on the Local Map Pack when potential customers search for services that you offer.
Start by making sure you have a Google My Business Listing and that you have completed your profile as much as possible. This includes not just entering your business name and location, but completely filling out all possible fields to include your service area, contact information, business hours, photos, and more.
From there, you should also encourage past customers to leave reviews on your business page; take time to respond to these reviews, regardless of whether they're good or bad. You should also make an effort to post new content to your Google My Business listing as much as possible to keep things fresh and relevant.
Organic
Even with a paid search ad and/or a Local Map Pack ranking for your home services business, you can't afford to neglect your organic search marketing. Sometimes people will skip the ads altogether, thinking they're just ads and not trustworthy and jump to the organic tier. Others will look at the paid ads and then check to see if the same business appears in the Local Map Pack or organic rankings to justify the ads' credibility. Some steps you can take to boost your business's rankings on the organic search results page include:
making sure your business is indexed on as many third-party sites as possible
staying active on your business social media pages
posting regular content on your site's blog that your target audience will find useful
posting reviews and testimonials on your website
Schedule a Free Surefire Local Marketing Platform Demo Today!
With so much to keep in mind, it's easy to see how Google marketing for home service contractors can quickly become a full-time commitment. Looking for some help in improving your accessibility in Google's local search results without taking time away from other aspects of running your business?
If so, then Surefire Local's marketing software may be right for you. Contact our team today to learn more about it and schedule your free demo with us!