There are more than a few ways to drive visibility for your business in Google Search. It's always important to be ranked well for organic results, which comes from building a website that's naturally attractive to Google (SEO, geo-signals, consistent information, etc.). However, organic visibility can only get you so far. That's where other channels like Google My Business and Google Ads can come into play. And now, Google is in the process of launching a new advertising option called Google Local Services Ads (LSAs)…which is going to change the game for how homeowners find and connect with local home services contractors!
Google Local Services Ads Position You Front and Center on Google
Google Local Services Ads are a type of paid advertising that offers a unique opportunity to help your business stand out on Google. As a pay per lead format, it can be a competitive way to get highly targeted leads – or customers that fit your project needs. It only includes verified businesses, not just any company, which means your business gets to shine above the competition. A key difference here is that these businesses are positioned higher on the search engine page, positioned nicely at the very top of Google Search. This gives prominent visibility to your customers because these ads are the very first thing they see when searching on Google.
The question you should have, then, is how to get there. With your ads so accessible to customers, companies next need to focus on developing a strategy for getting your company's Google Local Services Ads campaign in place.
Getting Started with Google Local Services Ads
There are some hurdles to overcome when getting started with Google Local Services. For example, the first step is to verify that the ads are available in your area. Google hasn't rolled out the service to all markets across the country just yet. From there, you'll need to create a business profile. You'll be creating your Google ads dashboard and establishing your company in this process.
To become a verified business, you'll need to submit your business license and insurance information. Google has a team of researchers who will review this information and approve them. You will also need to pass a background check. This process will verify your business entity including the owner and field worker data. It can take between four to six weeks to complete this process.
Once you get through this process, the next step is to get at least one customer review. You'll need to request reviews from your customers or clients in order to get your ads in place. If your business is powered by the Surefire Local Marketing Platform, we've seen this step be easy and painless to get past.
Let's Talk About the Strategy
Google Local Services Ads provide a good deal of information about your business without forcing someone to click to learn more. They include your star rating based on your online reviews, contact information, service area, and other details. The format includes a smaller ad with a Google Guaranteed Badge on it. It also appears first in Google's rankings. A viewer can click on it to open it up to a larger, more detailed explanation of the company.
The expanded version provides even more information about your company including providing easy ways for customers to contact you.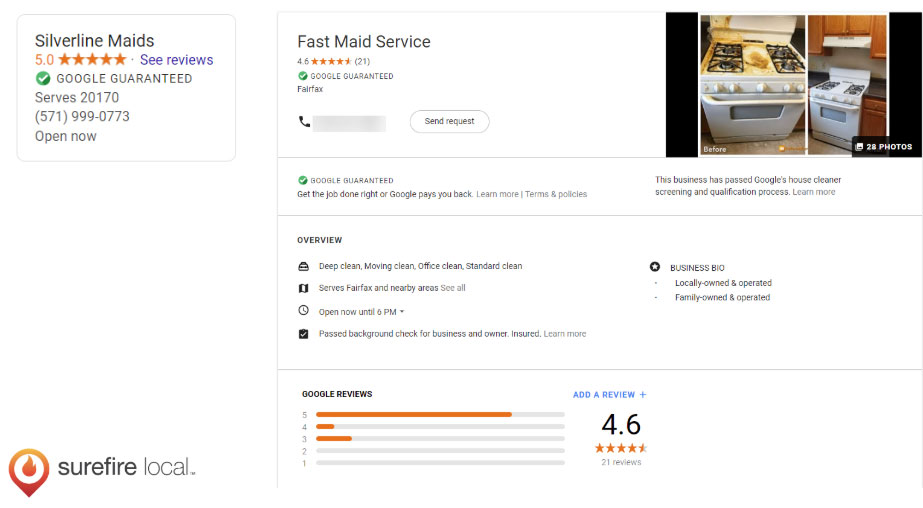 It provides a business bio on this page as well, which can help you to stand out, such as including your Better Business Bureau member, certifications, and other details that help your company to stand out.
How Do You Manage the Process?
When someone calls in, your leads are managed through the leads dashboard. There are different types of leads that are easily labeled within the dashboard for efficient management.
When a lead calls in but does not receive an answer to their call, they are a New Lead. Active Leads are those that have had a conversation (that's recorded) and you haven't put aside. Booked Leads are those you have an appointment set within the next seven days. Leads will become "completed" after an appointment however you can add notes to their profile.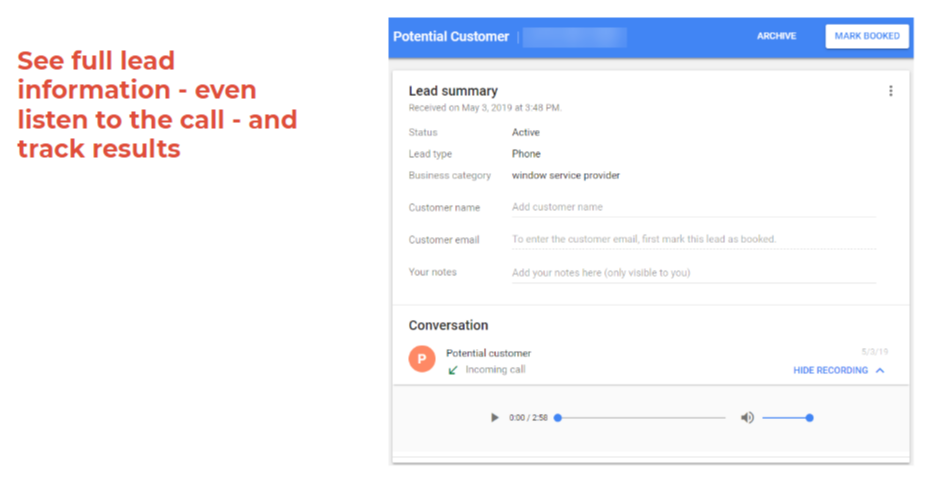 The lead summary offers a great deal of information for you to better manage your leads. There's a link to the conversation available to you as well. You can add all of the information you have from this lead, including their name, needs, location, and other data you've obtained. By storing all of the information here, you are able to effectively manage your leads in one place.
As a service provider in this industry, it can be critical for you to have access to lead management tools like this. Google Local Services makes it possible for you to get the most out of every lead you receive. Our team of specialists can set up your Local Services Ads and work with you to manage the leads as well, giving you the tools to thrive using this tool. Schedule a call today.