Google Local Services Ads (LSAs) are a new way for your business to stand out from the competition. They also work very well at helping to level up your current Google Ads strategy.
This isn't a situation where you want to choose one or the other, however. Rather, you want to incorporate a wide range of tools to target ideal customers, actually reach them, and get them to call you.
What Happens When Customers Look for Your Services On Google?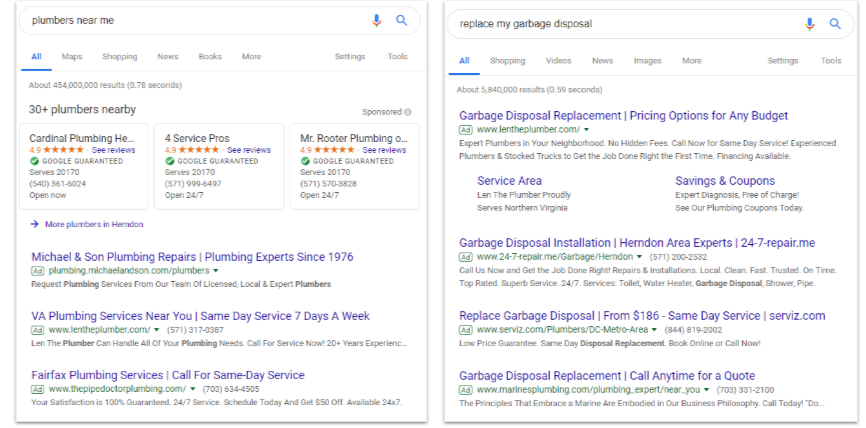 Let's say a customer is in need of a plumber. He or she types that into Google or nowadays asks Google Assistant to recommend the top local plumbing businesses. Google Local Services Ads will show at the very top – these are the listings of verified businesses, those that have gone through the vetting process and proven they provide specific services in the target area.
Below that is what we'd call traditional Google Ads (previously known as Google AdWords) – the ads you may have been using as a way to generate leads. It is not always the case that the company that is listed in the Local Services area will be listed in the top three leads on the page.
That's an important distinction to consider. As a customer, you are naturally going to look at the top section (Google Local Servicess) because they are prominent and display the Google Guaranteed badge of approval, but you are also looking at the first few search engine results that show Google Ads. If your company does not there, it could be costing you money and lost lead opportunities. In this case, you want to consider Google pay-per-click services to gain some visibility.
In addition to this, you need to consider the importance of ranking well naturally. If someone needs help with a very specific task – such as replacing their garbage disposal – those types of detailed queries are not going to generate the same 3 listings at the top through LSAs. If you are not ranking well there, then your company is left out of these types of searches.
However, you can improve this by ensuring you are using Google Ads, which will show up on the top of the page as a component of the search for these more detailed searches.
When Should You Use Google Ads?
Take into consideration what your goals are. You don't want to just reach people looking for a plumber, but also to meet the needs of your customers who need more – including access to those special services. That is why you need to focus on Google Local Services and then incorporate Google Ads into the strategy as well.
Google Ads provide a key benefit here. Because they can reach a far larger audience and achieve more of those unique searches, you should not think about using either Local Services Ads or Google Ads. Instead, be sure your strategy focuses on using both methods together.
How do you do this? It can be a challenge to see the value in both methods, but most companies who are ready to take their leads online are going to find pairing the two services is easy enough to do. You'll need to go through the process of selecting your target audience, establishing your Local Service Ads and Google Ads accounts, and building up your use of these advertising tools.
Why Surefire Local Is There to Help
Surefire Local has more insight into the use of Local Services Ads due to our connections within Google. That means we are better able to create the type of ads and strategies that are right for our clients. Here are a few of the advantages we bring to you:
We have over 700 Google Local Services accounts under our management. This includes businesses in a large selection of industries such as Windows, HVAC, Roofing, and Plumbing.

We have that close relationship with Google's team to help expedite the process. The LSA process can take time to manage and verify, but with our resources, we can push that forward faster.

We also have relationships with the background check companies. This can help us to facilitate the process and move it forward with better results.

Additionally, we can provide you with ongoing tips for improving your visibility based on Google recommendations, giving you the insight you need to ensure you can make better decisions.
Building an effective Local Services Ads campaign and incorporating Google Ads can be one of the most important investments you make in extending your digital marketing reach. It may be exactly what you need to get those high-quality leads you need. Find out by scheduling a brief call with our team.