In a previous blog post, Ultimate Guide to Google's Top Ranking Factors for Local Businesses, we touched on the ranking factors that influence your online visibility.
Relevance: How well your business matches a search query
Proximity: How close your business is to the person searching
Prominence: How well-known your business is compared to your competitors
Let's dive a bit deeper and look at a few ways you can optimize your Google My Business listing to broaden your local reach. When you have a solid understanding of how Google works and best practices, you can focus your local marketing on the activities that drive the highest ROI in improving your online visibility and reaching more local customers.
Understanding Google's Geographic Definition
Your local business has a physical address and your city is a part of that address. Google also has a geographic definition of your city and it may differ with the U.S. Postal Service's definition.
For example, this State Farm Insurance agency is physically located at an address in Olathe, Kansas. Take note of their placement within Google Maps. The red outline shows Google's definition, or geographic definition, for Olathe. This State Farm Insurance agency is located outside of that red boundary.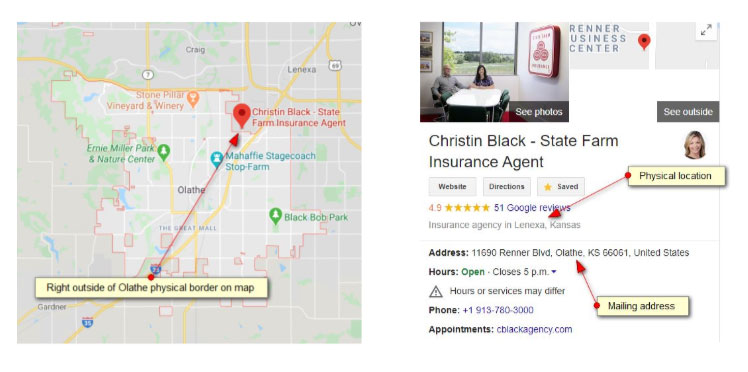 Understanding How People Use Google to Find Information
50 percent of all searches on Google now end without a "click on a result".
In 2019, this milestone was reached. Remember when organic search tactics battled for placement within 10 ordered blue links all nicely in a row? That's not at all the reality today. Google as evolved from that simple search results page layout and made the page much more robust with local business information. This ultimately means that a potential customer could get all the information they need about your business directly from a Google search results page, without having to click on additional sites.
Optimizations for Google My Business
Optimizing your Google My Business is not a one-time activity. It requires consistent contributions to keep your Google My Business listing. There are three easy and effective ways to continuously update your listing and maintain an active presence on Google.
Get reviews. Building up your online reputation is one of the greatest ways to increase local reach and build trust within your local community.
Share photos. Upload and post your own photos as well as encourage your customers to do the same.
Create and publish Google posts. Google posts are one of the most underutilized features of Google My Business. Google posts allow you to publish offers, events, products, and services directly to Google Search and Maps.
In addition to ongoing optimizations to your Google My Business listing, it's also equally important to be vigilant for competitor Google Maps spam. Are any of your competitors' Google My Business listing violating Google guidelines? If so, they are taking search traffic away from you. Here are a few ways businesses are spamming their Google My Business listing.
Altering their business name to describe a service
Stuffing keywords into their business name
Stuffing location into their business name
Inaccurate business information
You can combat Google Maps spam in two ways.
Use the "suggest an edit" link next to their Google My Business listing. The more people suggest an edit, the better and more likely it'll be accepted.
Report the violation via Google's Business Redressal Complaint Form.
Improve Productivity and Gain Visibility with Local Marketing Software
Optimizing your Google My Business listing requires you to use the Google My Business app, but what if your business utilized a marketing platform that enabled you to optimize your Google My Business listing while also giving you control over your marketing and online presence all in one place? By consolidating your marketing in one place, you're able to gain visibility and transparency into the activities and ROI from your local marketing.
Surefire Local provides the industry's most complete marketing platform designed to help small and medium-sized businesses attract lifetime customers, grow revenue, and broaden reach in their local markets. The Surefire Local Marketing Platform helps locally-focused businesses remove digital roadblocks hindering growth, gain insights, and take action to attract and engage customers through measurable, multi-channel marketing.