Google has recognized that local, service-based businesses need regular inquiries. For some local Google searches, homeowners need a trusted solution in their neighborhood! Thus, Google Local Services Ads were created to book local jobs and grow businesses fast. This advertising option is just one of the many tactics you can use in your local marketing strategy. With Local Services by Google, you can advertise your services online, book jobs in areas you choose and connect with customers who search on Google for the services you offer.
Why Should You Get Started on Google Local Services Ads?
Local Services Ads have been incredibly successful for businesses. Here are the benefits of having LSAs:
Increased exposure at the top of Google search results
Receiving the Google Guarantee badge to earn the trust of new customers
The ability to connect with customers at the moment they're looking for services you provide, which can lead to higher conversion rates
Access to Google's easy-to-use management platform
Limited wasted time, as customers choose you
You only pay for valid leads
If you run a local service-based business, you certainly should consider Local Service Ads. LSAs are a valuable and cost-effective advertising option that can help you drive more customers. Google's easy-to-use dashboard allows you to directly manage your leads, follow up with customers, and request reviews. You can even access the dashboard from your office computer or on-site from your smartphone or tablet with the LSA app.
How Does it Work?
Let's say a homeowner in Vienna, VA is looking for an HVAC service provider because her AC unit suddenly isn't working. She needs an immediate service from an expert that can come quickly to her neighborhood. She enters a query for "air conditioning repair in vienna va" and this is what her Google search populates.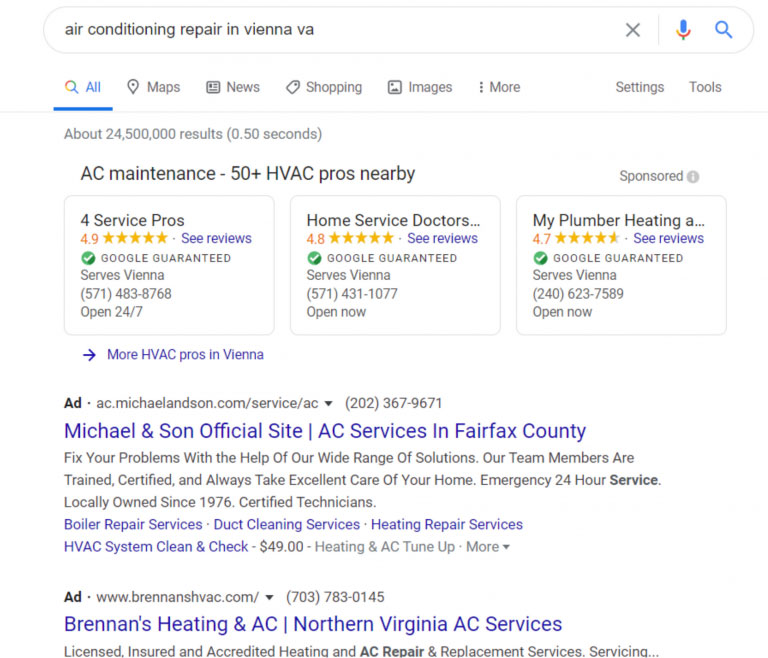 The three boxes at the top of the Google search are the Local Services ads. Your ad will show up for prospects searching for services in the zip codes you've chosen. The ads show a business number, hours, ratings and reviews. Below the local search ads are regular Google Ads, which only show text. One of the biggest differences between Google Ads and Local Services ads is that the first is pay per click while the second is pay per lead.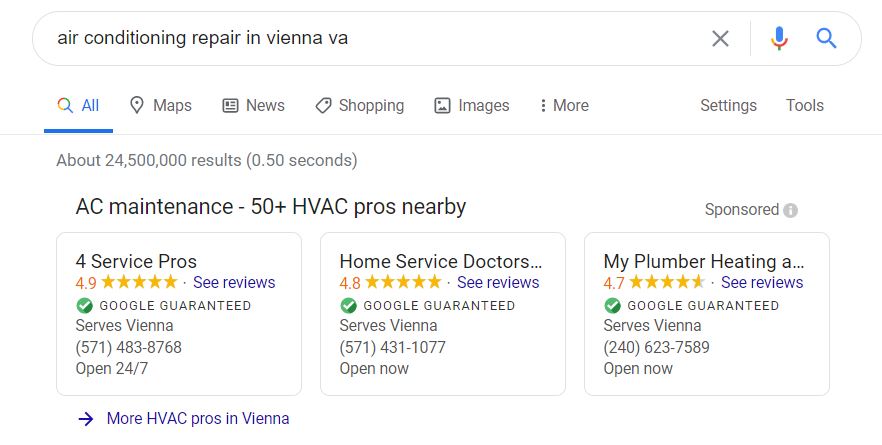 Upon clicking on a local advertisers' listing, Google will prompt the homeowner to confirm the job they're looking for as well as their service area. The homeowner is matched to the searcher if your business fits the job and serves that area. Then, they'll be able to review your qualifications, business bio, ratings, and reviews before calling you. To qualify the prospect further, there's a dropdown with very specific services that your specific industry can do. So the homeowner can be very particular about the service they need before calling.

Through a Local Services ad, you will only pay if a qualified prospect contacts you directly through the ad. Google will connect them to a more appropriate Local Service Ad if you're not a good fit for the homeowner's job or you don't serve their region. If a prospect calls and you determine that they are invalid, you can dispute the lead through the LSA dashboard, provide a valid reason, and Google will process the request and notify you of the outcome.
RECOMMENDED TRAINING: Google Local Services Ads Workshop
Who can Get Started on Local Services Ads?
Google fully supports LSAs for the following industries, however, not all services are supported in all markets*:

*Not all regions have access to Google LSAs but most large metropolitan areas in the United States do.
Getting the most out of Local Services Ads
Space is limited for LSAs at the top of local-service search queries. Since there is only space for three LSAs on a desktop, two on mobile devices, and one in Google Assistant results, you should maximize your online presence for a good position. Google doesn't specifically lay out what guidelines will make your Local Services ad successful. We've got some best practices that will help improve your LSAs and also your online presence in general.
Manage your weekly ad budget 
Focus on asking your customers for feedback to increase your rating
Respond immediately to your messages and phone calls that come through the ad (failing to do so may lower your ad ranking)
Maintain consistent NAP data (name, address, phone number) across your online directory listings
Optimize your Google My Business listing
Latest Update
Google released COVID-19 Callouts to the Local Services by Google ad unit, allowing providers to highlight the precautions their business is taking to keep homeowners safe. Homeowners can view the providers selected callouts from a provider's Local Services business profile.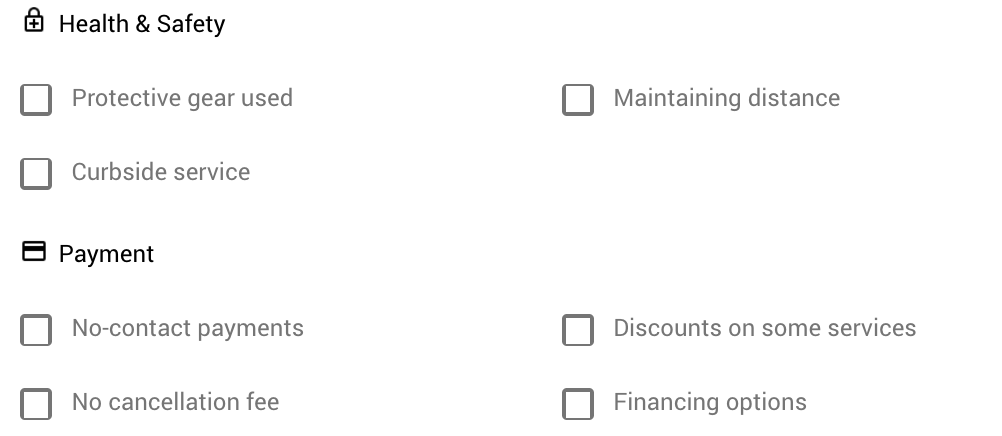 Getting Started
The first step is to check your eligibility for Google Local Services Ads for your service type and your area. One way to do that before filling out the form is to do a quick Google search using your services and the words "near me" (i.e., "HVAC near me") to see if Local Service ads are displayed at the top of the page. If you don't see any ads, it may mean that there currently aren't any verified providers so you may be one of the first for your area! The next step is to create a profile, submit your business license and insurance information to Google for review. For many types of companies, a background check is required, and all businesses need at least one customer review to go live.
Let Us Help
Surefire Local is a Google Premier Partner, which puts us in a unique position to help your business get through the verification process. Our LSA team can guide you through each step to make the process as painless and seamless as possible. Another advantage of getting help from our team is we have direct communication with Pinkerton, a background check company. It's the step in the process that takes the longest so having a "middle man" to help give updates on status will give you peace of mind that your background check is moving along! With Surefire's help, you can get your ads up and running quicker than if you went at it alone.
Connect with our team for a Google Local Service ads consultation today by emailing lsa@surefirelocal.com.