If you're saving time, you're saving money. The key is investing in the right digital tools to help you do just that. With the right marketing platform, you can become a local marketing superhero!
One of the biggest trends is the rise of digital asset management platforms. You can read all about it here: Digital Asset Management Guide for Small Businesses.
A powerful benefit of utilizing a digital asset management platform is how you're able to optimize your online presence for visual search. Consider these search visibility statistics that show how quickly image and video searches are growing:
20% of searches happen on Google Images (not Google Search)
80% of searches are followed by a video search
Websites with videos are 53 more times likely to rank on Google's first page of search results
Your small business needs to have the ability to store, centralize, and publish your growing set of digital assets in an easy and efficient way. Doing so, you'll be able to share pictures and videos of your business, team, and the excellent work you provide customers across your website, business listings, social media, and other online channels.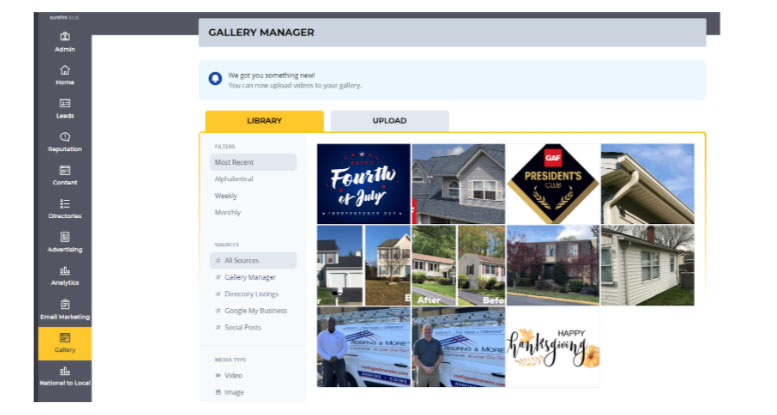 Your Employees and Target Audience Are Evolving
Consider this:
Are your employees getting younger?
Do they all have smartphones with cameras?
Is video becoming easier and more important for the services you provide?
Is your target audience getting younger and interested in seeing you on social media?
You'll want to arm your employees with powerful digital tools that enable them to build your business's online presence and make it stronger each and every day. That way, your brand will stand out among your competitors, and thereby, drive more leads to your business. A tool like the Surefire Local Marketing Platform can help you:
Save time – no more searching across different team members, phones, and storage for an image.
Access control – easily add authorized users to upload and then publish images and videos.
Brand control – now that your digital assets are centralized, you have better control over your brand.
Easily publish – publish content to your social media sites like Facebook, Instagram, LinkedIn, and Twitter as well as to all 80+ of your business listings and website. (Side note: How many sites is your business found on? Run a quick scan!)
Already Have Your Digital Assets Organized on Google Photos?
Not a problem. Surefire Local Marketing Platform allows you to connect your Google Photos account, making it even easier to provide access, control, and publish your digital marketing assets across your online presence.
Would you like to see a demo of the Surefire Local Marketing Platform and learn how to get started with digital asset management? Our team of been-there-done-that local digital marketing strategists can show you the ways in which our platform gives you complete control over all of your major marketing channels and how you'll know exactly where new customers are coming from, the activities that drove them to convert, and how much it cost you.