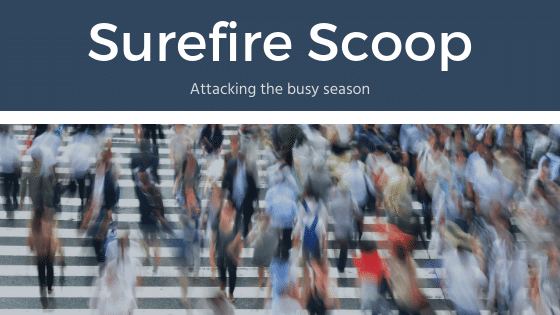 Welcome to the scoop, where Surefire spills entertaining news and cures your digital marketing blues. Check back every other week to get the latest.
---
Inspiration of the day
"You've got to think about big things while you're doing small things, so that all the small things go in the right direction." – Alvin Toffler
How-To Survive the Busy Season
– Start each day with a to-do list
– Divide and conquer the day: make your team a well-oiled machine
– Decide what jobs to do or not to do (you can be picky this time of year)
– Take a break and plan ahead for some adequate "recovery time"
– Stay positive to lighten the mood and the load
You got Q's, I got A's
"Why should I give you 30 minutes of my day to see a platform demo during the busy season? I don't have time."
Interesting you mention time. We know that most entrepreneurs are time-starved. In the new world of digital marketing, your business is telling a story across so many different channels (website, over 70 directories, reputation sites, Google My Business, social sites). That story is happening with or without you managing it…that can take a lot of time. The Surefire Local Marketing Platform is designed to give you your time back…so you can tell your story across all those places easily. So when you think you do have a short amount of time to learn about something that will save even more time, let us know.
Surefire Bloopers
Our team is so excited to be in our new space…check it out!