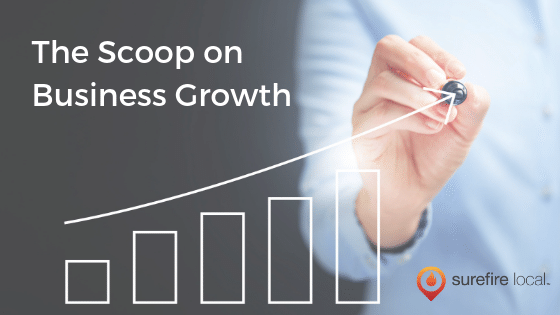 Welcome to the scoop, where Surefire spills entertaining news and cures your digital marketing blues. Check back every other week to get the latest.
---
Inspiration
"Growth is never by mere chance; it is the result of forces working together." – James Cash Penney, Founder of JC Penney
Why business owners should take risks
3 common components of most successful businesses:
-They operate with the right mindset.
-They are fundamentally fit and the business is properly structured.
-They are adjusting and changing.
Does your business fit any or all of these categories? Are you on track to growing your business and continuing to be successful year after year?
Q & A
I want my business to grow but I'm nervous about straying away from marketing tactics that I KNOW work. What do you suggest?
We completely understand that mindset. We often think that way as well. But taking risks is necessary in order for growth. If you're looking to branch out, consider finding a digital marketing "partnership", not just someone who takes over your digital marketing without your constant knowledge of what's going on. Find a company that you can work with to come up with the best strategy possible. After all, you know your business better than anyone else!
The Surefire Culture
The Surefire team is SO excited about our future growth. We've got an exciting new platform update coming soon that will completely change the way you look at marketing. If you want to chat about what's to come, you can schedule 15 minutes with one of our experts.
Take a Business Fitness Workshop
Similar to how you go to the doctor once a year to have your vitals checked, you too should spend time working on your business and not just in it. Mark G. Richardson will be walking businesses through a simple and concise 10-point check-up to take an inventory of your business and ensure that it has the foundational principles necessary to grow. If you've ever found yourself trying to tackle the challenge of growing your business, this online workshop is for you.
Learn more and register now to save your spot!