Thanks for listening to the Surefire Local podcast!
Here at Surefire, we've had the unique opportunity to talk with hundreds of successful business owners in the home services space, not to mention work closely with inspiring thought leaders in digital marketing and tech. This podcast is one of the ways we're giving back to that amazing community.
In This Episode…
Host: David Reed, VP of Sales at Surefire Local | LinkedIn
Guest: Tony Hoty, Owner of Tony Hoty Training & Consulting | LinkedIn
Tony offers an insider's perspective on one of the most challenging segments of the remodeling business: lead generation through door-to-door canvassing and road shows. At Surefire, we often talk about how crucial it is for a brand to have a robust web presence and wide digital footprint, but what of face-to-face contact? Is there room for it in a modern-day marketing strategy? Tony's answer is a resounding yes.
Tune in as he talks us through what he calls the "five pillars" of the remodeling industry, common lead boosters and lead busters, how to use the law of reciprocity to influence clients, and more. There's something here for everybody!
"If you want more leads, give more leadership." —Tony Hoty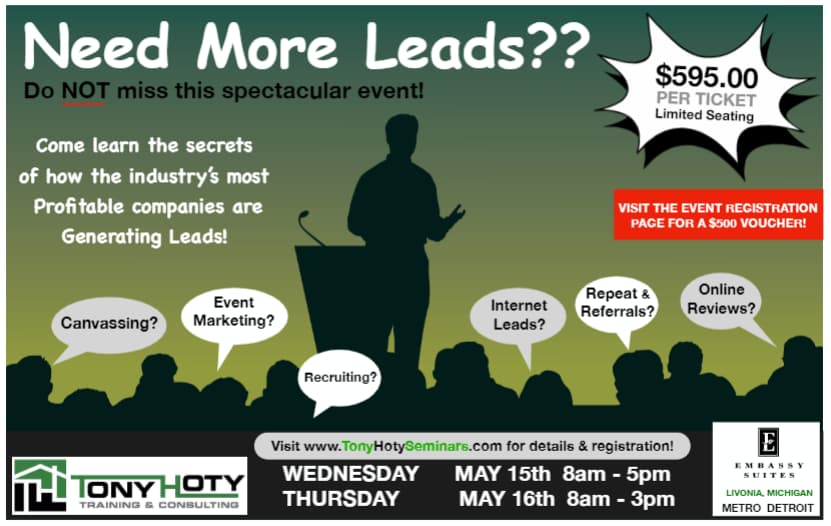 Visit: www.TonyHotySeminars.com or Email: tony@tonyhoty.com to learn more.
Subscribe to the Surefire Local Podcast: iTunes |SoundCloud
One of the best things about getting to do what we do is the chance to work closely with contractors. Over the years, we have had the unique opportunity to talk with hundreds of very successful owners as well as meet interesting partners who have developed amazing systems and technologies. Our goal with this podcast is to really give back to the contractor community, and with the help of some of these thought leaders and experts, help guide you on the next chapter of your business.