In recent years there has been a shift in digital marketing towards localization. For instance, Google continues to adjust its algorithm to provide more local search results, where businesses show based on their proximity to the searcher. This focus on local has also been occurring in social media with the formation of social networking sites like Nextdoor.
Nextdoor seeks to connect people living in close geographic proximity. Unlike other social media networks, like Facebook, which connect people across the world, Nextdoor is a community-level social network, meaning users can only engage with other people in their neighborhood portal — which is assigned based on their verified address. This provides a great opportunity for small and medium-sized businesses to engage members of their service area.
Let's take a closer look at the Nextdoor platform and four steps you can take to optimize your presence and build an effective Nextdoor marketing strategy.
What Is Nextdoor?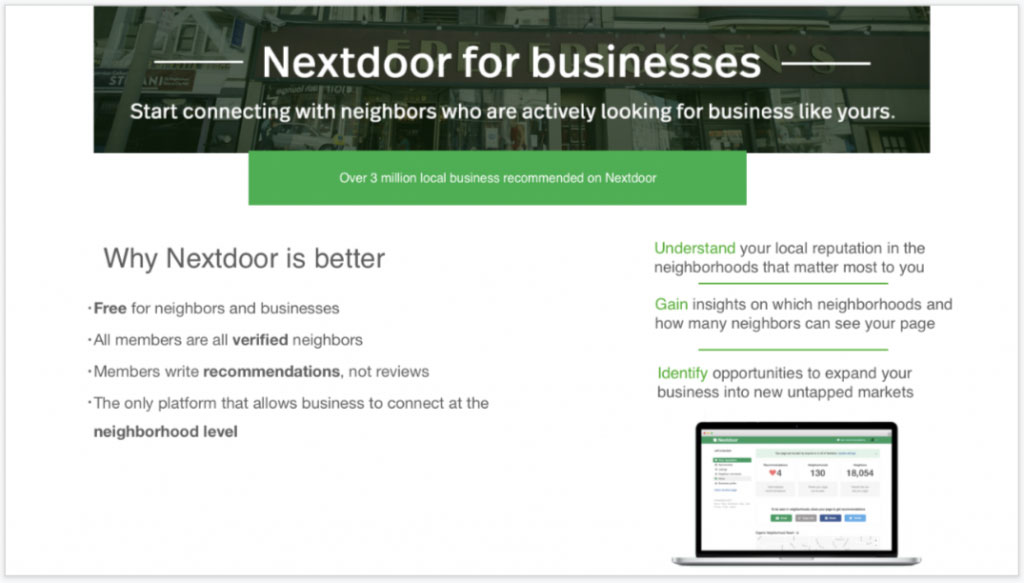 Nextdoor is a private social network for the neighborhood that both helps build stronger communities and helps YOU reach the customers that matter.
With the Nextdoor app, neighbors can connect and easily share advice, find community events, and get recommendations for nearby businesses. Likewise, business owners can use the platform to assist with marketing, targeting neighborhoods and offering services that cater to the unique needs of the area.
How it works is members of a neighborhood (either homeowners or renters) sign up for an account by verifying their address and identity. Once verified, members can access their neighborhood's portal, using the app to discuss community events and chime in on neighborhood news.
Because it's designed to facilitate communication, Nextdoor has also become a popular way for neighbors to ask each other for local business recommendations. It's referral marketing taken to the next level. Instead of having to sort through unverified comments on third-party review sites, Nextdoor users can search for services on the platform, click on a business's profile and see what confirmed members of their community have to say.
Benefits Nextdoor Offers Local Businesses
The platform's stringent verification process is why Nextdoor is so valuable for local businesses and home service providers. Because all members are verified, Nextdoor users have greater trust in the reviews and recommendations about your business. It also guarantees that you're connecting with people who live in your community or service area – no worries about wasting time and resources courting geographically unqualified leads.
Nextdoor offers business owners like you a way to understand your reputation in target areas. You can use the app to gain insights about your local audience and identify opportunities to expand your business into new untapped markets.
67% of Nextdoor members share local recommendations and there have been over 40 million business recommendations on the network. By having a strong reputation and previous customers in a neighborhood, your business can use Nextdoor to build and leverage social proof in your service area, drawing in new customers and increasing sales and profit.
Start Your Nextdoor Marketing Strategy with These 4 Steps
You can download the Nextdoor app on the App Store (iPhone) or Google Play (android). You can also sign up online from your computer.
Note that there are two options for how to set up your business or organization on Nextdoor:
Business. This is what you'll pick if your business has a separate legal name (such as if you're a franchise, an LLC, or corporation).
Individual. Choose this option if you operate under your own name (as an entrepreneur, a sole proprietorship, etc).
Step 1 — Create and/or claim your free business profile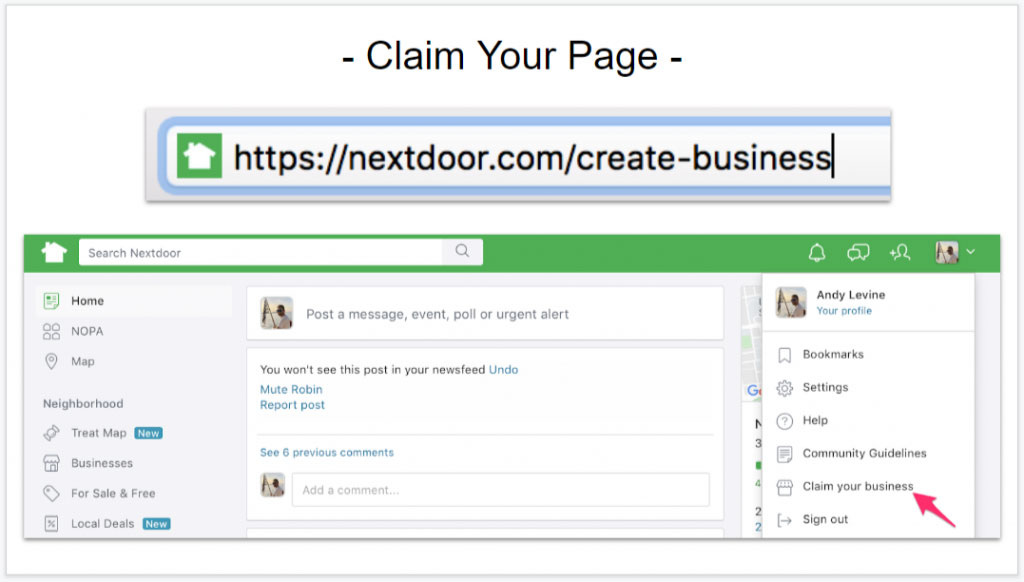 Nextdoor business pages can either be tied to your existing member account or you can create a brand account.
Go to the URL: nextdoor.com/create-business and enter your business name and address. Nextdoor will search its database to see if any similar-looking businesses have already been recommended by members.
If your business pops up on the results page, go ahead and claim it. The platform will take any existing Nextdoor recommendations for your business and tie them to your page. This allows you to immediately start making use of that social proof.
If your business doesn't have any matches, then create your new page by simply entering the name, street address, email address, and the business category.
It's recommended that you keep your business account separate from your individual account. This allows multiple people on your team can manage the business account without having to go through your personal account.
Step 2 — Set up and complete your profile
Start connecting with your neighbors by building an effective business profile.
Use an engaging, high-resolution cover photo to showcase your business (use an image that's at least 512 X 512 pixels in size).
Include a friendly greeting message on your profile that explains how you're connected to the neighborhood and highlights your professional qualifications.
Start building your network by letting past and current clients know that you're now using Nextdoor and would love to connect with them on the platform.
Make sure to include your business NAP (name, address, phone) information, as well as your hours of operation, your work email, your service area (if applicable) and your website.
[aside] Pro-tip: Make sure that your Nextdoor business information is consistent with any existing listings you have on other directories (such as Google My Business and Yelp).
Step 3 — Collect recommendations
A major benefit of creating a business page is that you can collect and display member recommendations in a single spot.
Get more reviews — The more recommendations you have, the more people you'll be able to reach on Nextdoor. Your recommendation count also influences how you rank when someone in your area searches for your services on the platform.
Respond to all reviews — Personally thank each person who recommends your business and ask for any feedback they're willing to provide. In addition to promoting more engagement, this will help you provide them with an even better customer experience next time!
Leverage your existing customer base — To help you tap your existing network for recommendations, the platform has a tool that will send an email notifying your contact list that you've joined Nextdoor. You can also make use of links to your Nextdoor page that lets you easily broadcast your request across other social media channels.
[aside] Pro-tip: When first getting started, it's important that you ask your existing customers to review you on Nextdoor specifically in order to build up some social proof on the platform. Nextdoor doesn't allow you to import recommendations from other sources into your page.
Step 4 — Engage with your community
The entire point of Nextdoor is to facilitate communication with your neighbors so make an effort to genuinely engage with the people who visit your business page. Also, get involved in discussion boards and answer people's questions. Remember! Be authentic. Your goal is to help educate people, not give a sales pitch. Here are some other ways you can get involved:
Post to your community feed. Like any other social media platform, posting allows you to solicit advice and recommendations from your neighbors. Simply go to your community feed and click on Post to create a message or poll. You can also create an "urgent alert" to neighbors that will be shown at the top of your feed.
Create an event. For instance, maybe you're hosting a community meeting, or are participating in a local home show or festival. Navigate to the Events section, click on Add event and fill out the details. This will create an event posting that will appear on the community feed for your selected audience.
Create a Group. This allows you to communicate and meet up with like-minded neighbors. For instance, you could set up a home maintenance group, sharing tips to make basic jobs easier. To create a group, go to your community feed and click on Browse all groups. From there, click on Create group, fill out the description, set a privacy setting, and invite your neighbors to join.
Bonus — Run ads to expand reach at a local level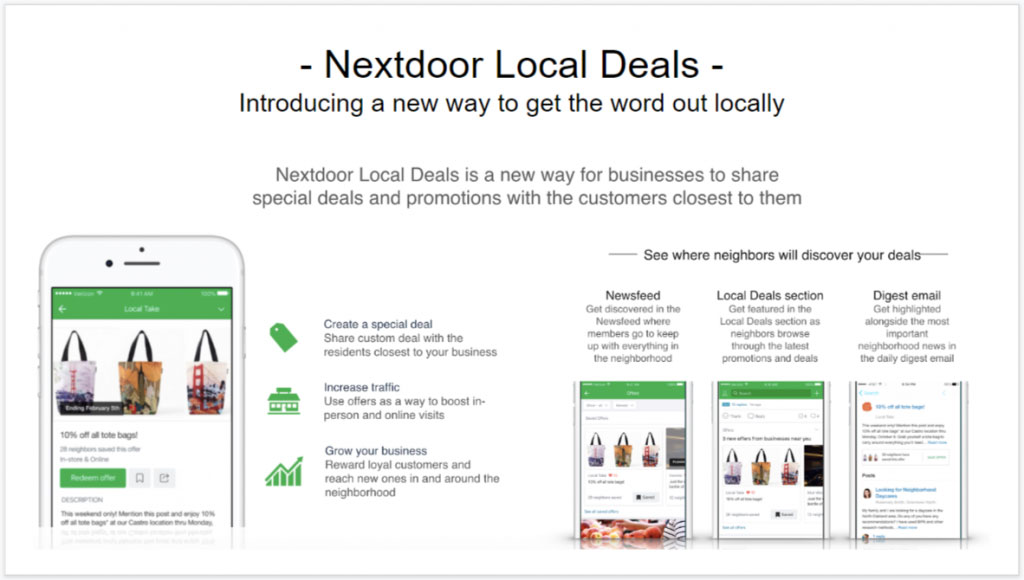 Nextdoor Local Deals is a way for businesses to share custom offers and promotions with the consumers in their service area. For example, a plumber could create a special video promotion for pipe inspections targeting a neighborhood that has a high percentage of older homes.
Local Deals are easy to set up:
Create an attention-grabbing headline and describe your offer
Set the duration of your promotion
Include an eye-catching image
Select your target audience
Start posting
Internal data from Nextdoor, as well as a national survey by Access Development, found that 90% of consumers make most of their purchases within 15 minutes of their home or work. This makes Local Deals a powerful tool in your marketing repertoire.
Key Metrics to Track on Nextdoor
As you get your Nextdoor marketing strategy up and running, it's important that you review performance data to see what tactics are getting results and what parts of your plan need to be revisited. Here are the four performance metrics you need to pay attention to:
Recommendations. These are the number of positive reviews your neighbors have given you. It shows how well you're building social proof in your community. The higher the number of recommendations, the more trust you'll have from your Nextdoor audience
Comments. The more people that actively engage with your Nextdoor page, the better. Gathering and responding to comments is a key part of the platform. It's how your neighbors provide crucial feedback and how you can address concerns to build an active community around your business.
Neighborhoods. This shows how far you can reach in terms of communities and neighborhoods. See which areas you're penetrating using Nextdoor and which neighborhoods might require a different tactic. (For instance, it might be that no one in that area is currently on Nextdoor, so you'll need to use a different channel to reach them.)
Neighbors. These are Nextdoor users who can see your page and who you can connect with. You'll want to keep an eye on this to make sure that your audience is growing. However, be careful not to turn it into a vanity metric! Much like "page likes" on Facebook, it's not enough that Nextdoor users can see your page, what you need is engagement.
By tracking these four metrics, you can start optimizing your presence on Nextdoor.
Talk with a Local Marketing Partner
Ready to take your local business's social media strategy to the next level? Surefire Local provides business intelligence marketing software that makes online marketing easy so small businesses can grow profitably. You gain complete control and visibility into all aspects of your digital presence from a single, intuitive all-in-one dashboard.
Over 3,000 small businesses across North America have centralized their online marketing, saved time, and grown profits with Surefire Local. Request your complimentary marketing consultation and see how the Surefire Local Marketing Platform will simplify your online marketing.