Tracking and managing your leads once was a rather simple process. A prospective customer would find your listing in the Yellow Pages and give you a call. A friend or past customer would refer someone new to your business. Today however, with the explosion of the Internet and all of the ways prospective customers can find your business, lead tracking has become an overwhelming obstacle if you don't have the right tools to manage it all.
In a past blog, we discussed the five most common challenges small businesses face when it comes to tracking leads from their local-digital marketing activities. Here's a quick refresher:
All leads are not created equal
Too many channels and sources to account for
Too many tools to try and sync data
Industry and environmental factors
Measuring local marketing ROI is a skillset that takes time to learn
For a more detailed overview, I suggest reading: Find Out Where Your Leads and Customers Are Coming From.
Why is Lead Tracking Important?
Sure, you're happy enough as is knowing you have a strong pipeline of prospective customers. You're one of the few lucky ones who has never had an issue generating leads. You're fine knowing that you're generating leads, and aren't as bothered with knowing the nuances of it all. However, here are some questions to answer:
Could you be attracting prospective customers at a lower cost-per-lead?
Are you maximizing your marketing budget to allocate the bulk of your dollars to the channels that drive the highest quality customers at the lowest cost?
Are you spending a lot of money and resources on generating leads, but seeing only 3% – 5% close rates on converting those leads to set appointments?
Are you growing your business profitably?
By investing in lead tracking and management tools, you'll be able to know exactly where your customers are coming from. You'll know the online sources and which campaign led to conversion. Those insights can then be used to improve your overall local marketing ROI and enable you to maximize your marketing budget to shift dollars to the best performing channels, while reducing waste in spend in the under performing channels. All of which leads to you being able to grow your business profitably.
Now let's shift gears and address those common challenges we mentioned earlier.
Lead Tracking Software
While technology has created amazing opportunities to learn insights never before possible, it's also created significant roadblocks that hinder your growth. Such as, utilizing a dozen or so different small business marketing tools for lead tracking. It takes time to learn these tools, and not all of them are free either. Add on top of that, there's a long list of usernames and passwords you have to keep track of and ensure are secure.
That's why so many small businesses are turning to all-in-one local marketing software. Being able to track, measure, and take action all in one place is a game-changer. Now, instead of having to sign into Google Analytics, Google My Business, Google Ads Manager, Facebook, Instagram, Yext, Yelp, Google Search Console, and a suite of other tools, you're able to integrate and leverage these tools all in one place. That means one, secure login for you and your team to use.
Tracking Leads with the Surefire Local Marketing Platform
Let's take a look at all of the ways you're able to track and manage your leads with the Surefire Local Marketing Platform.
This platform was custom-built from the ground up with local marketers in mind. Within the Leads tab of the platform, you're instantly greeted with an overview of how you're performing. By default, the Surefire Local Marketing Platform shows a 30-day comparison to help you gauge how you're tracking currently versus the previous month. If you'd like deeper insights, you're able to adjust the comparison time-range to your liking. With integrations with all the marketing tools your business relies on every day, you're able to get a complete, up-to-date snapshot of your leads without having to sign into each tool individually.
The power of the platform is in the ability to connect your website, phone numbers, Google My Business listing, website chat, and all other online channels to ensure you're collecting data consistently and creating a complete and accurate picture of your online presence. Only then, will you be able to view leads by source at a high level, such as phone calls, website form fills, and chat messages, as well as drill down into the specific campaigns that led to conversion.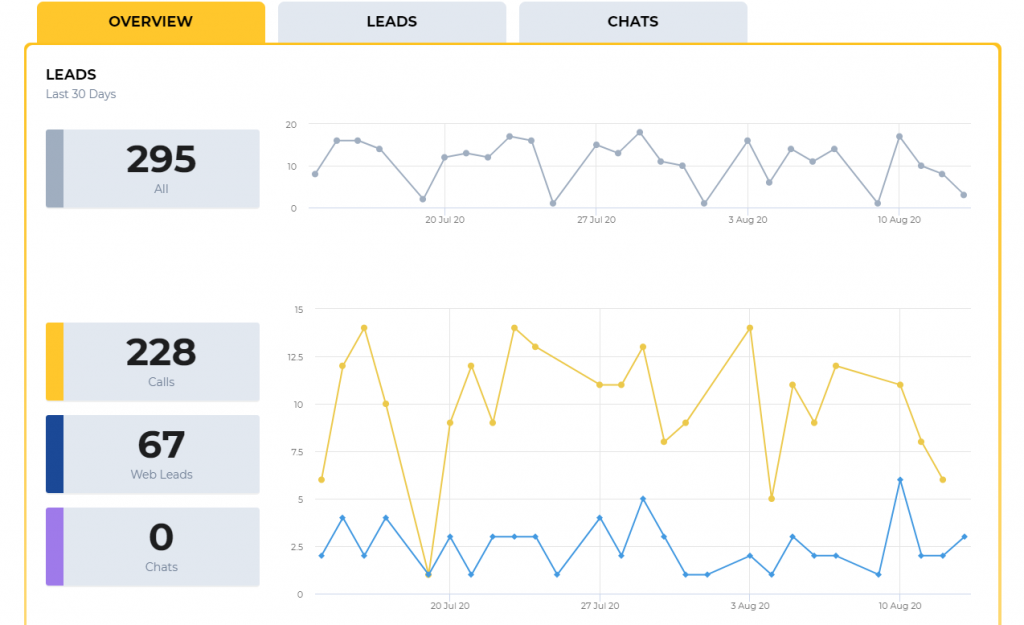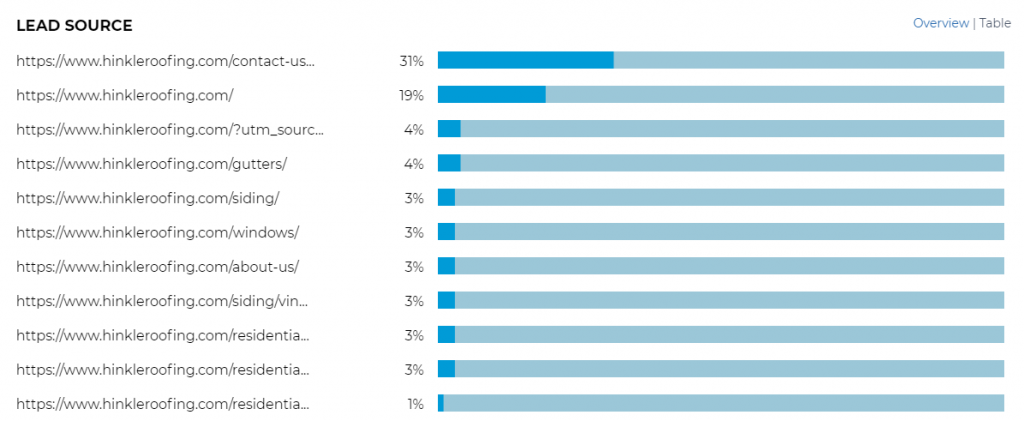 By connecting everything to the Surefire Local Marketing Platform, you're also creating a centralized source of truth, where all activity happens. Each person on your team will have a slightly different way of taking notes, preparing for a sales call, etc. But with the platform, all that work happens in one place, creating the ultimate transparency of activities. Anyone will be able to see the exact time a lead came in, how long it took for someone to connect with that lead, and all the notes and progress made with that lead together in one place.
You can also filter and review leads by date, status, name or source and make updates such as changing the status of the lead after they converted (or failed), adding notes, and listening to recorded phone calls.
The best part about the Surefire Local Marketing Platform is that with the mobile app (iOS and Android), you're able to get real-time alerts whenever new prospective customers inquire about your services. You're able to see and strengthen your lead generation management in the palm of your hands by:
Empowering your team to respond quickly to prospective customers and delegate when necessary;
Reviewing the progress your team has made at the end of each day;
And track and record all lead follow-up activities to review and learn insights that can help you improve close rates and internal processes.
Would you like to learn more about how you can leverage the Surefire Local Marketing Platform to improve productivity, maximize local marketing ROI, and create emotional connections with your customers? Request a free, personalized demo today!