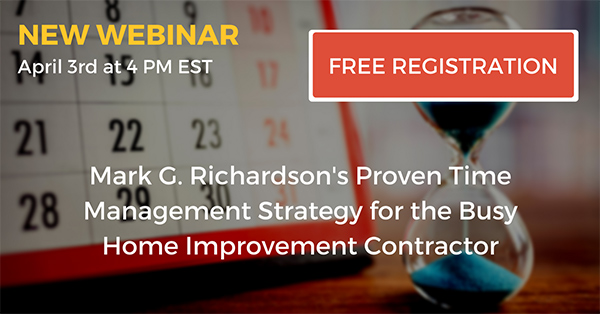 THRILLED TO ANNOUNCE…Mark G. Richardson will be joining us next week for a can't miss webinar on Tuesday, April 3rd at 4 PM EST. Last year, Mark (a leading authority in the remodeling industry) wrote and published a best-selling book on time mastery based on a system that's been developed and taught to business owners and home improvement contractors for over 25 years. It gets better…we're giving away copies of Mark's book to anyone who signs up. Sign up now!
Time is your most precious resource, especially when it comes to running your business. Yet there are never more than 24 hours in a day. With the right approach, you can work efficiently, productively, and relatively stress-free. This free webinar presents a great opportunity to hear from someone who's been in your shoes and get some useful ideas on how you and your team can be more productive.
You can register via the link below (or send a quick email to marketing@surefirelocal.com). Also, do you have questions (about the webinar, Mark or Surefire) that I can answer beforehand?
Live Chat: Mark G. Richardson's Proven Time Management Strategy for the Busy Home Improvement Contractor
When: Tuesday, April 3rd at 4PM Eastern (3PM Central, 1PM Pacific)