Maintaining an active social media presence has become a core element to your overall online presence and finding success in the digital era. For local businesses, Facebook and Instagram are both at the top of the list for recommended social channels. While organic social media traffic has increased over the past few months, just posting content to your business's Facebook page will only get you so far. To see the biggest impact and reach potential customers within your service area, you'll want to utilize Facebook and Instagram ads.
Getting started with advertising on Facebook and Instagram can be a lot to manage at first. There are so many details and tactics to not only launching a great campaign but maintaining one through optimizations so that you can improve the CPL (cost per lead) and justify the ad spend. That's why it's important to consider how Facebook and Instagram ads will fit into your larger online advertising strategy with Google Ads from the start. That way, you can work with the proper software and potentially a marketing partner to help you manage and optimize all your ads in concert.
Our goal here is to help you become more comfortable with Facebook and Instagram ads by understanding the opportunities associated with advertising your business on these channels. Let's now take a look at a proven strategy that can help you generate leads and achieve great results from your ad spend.
Understanding Facebook and Instagram Advertising
Did you know that the average Facebook user clicks on 8 ads per month? Or how about 75% of Instagram users take action after seeing an ad? It'll be important to understand how your customers are using both Facebook and Instagram as part of their customer journey as we get started.
But the first thing you'll need to do is to create business profiles on Facebook and Instagram if you don't already have them set up. Here's a quick snapshot of the steps to creating each.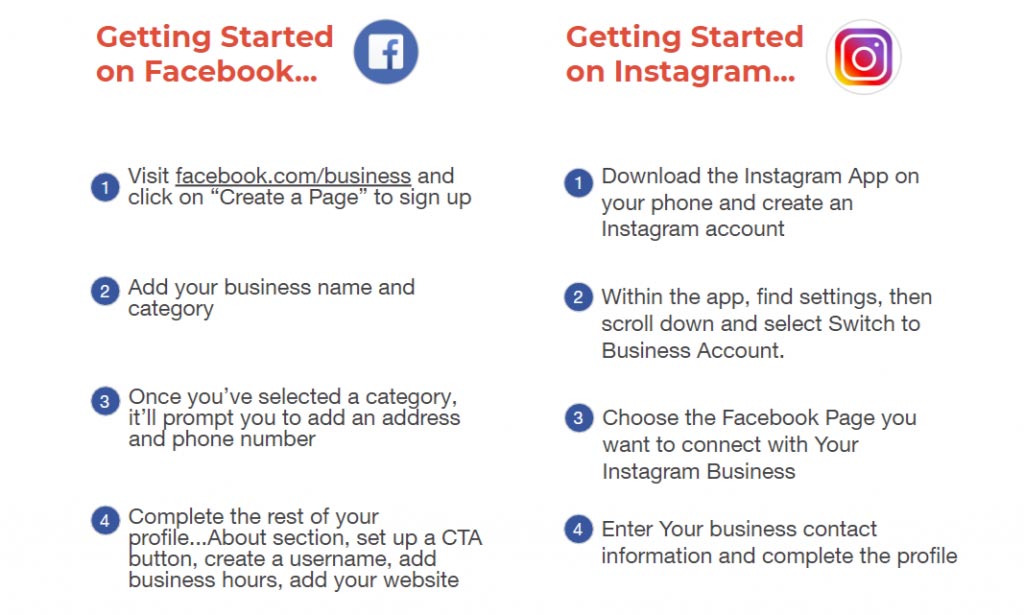 One important note here is that you'll want to set up your Instagram account as a business profile, not a personal profile. Doing so will allow you to schedule and share content to your profile through 3rd party apps like the Surefire Local Marketing Platform as well as provide additional insights and analytics. A personal profile requires you to manually post each time to Instagram through the Instagram app on your phone.
Then, you'll want to make sure you have a Facebook Business Manager account set up. This will become your command center for running your Facebook and Instagram ads. Another important note is that because Facebook and Instagram are connected, you can run your Facebook ads on Instagram even if you don't have an Instagram business profile.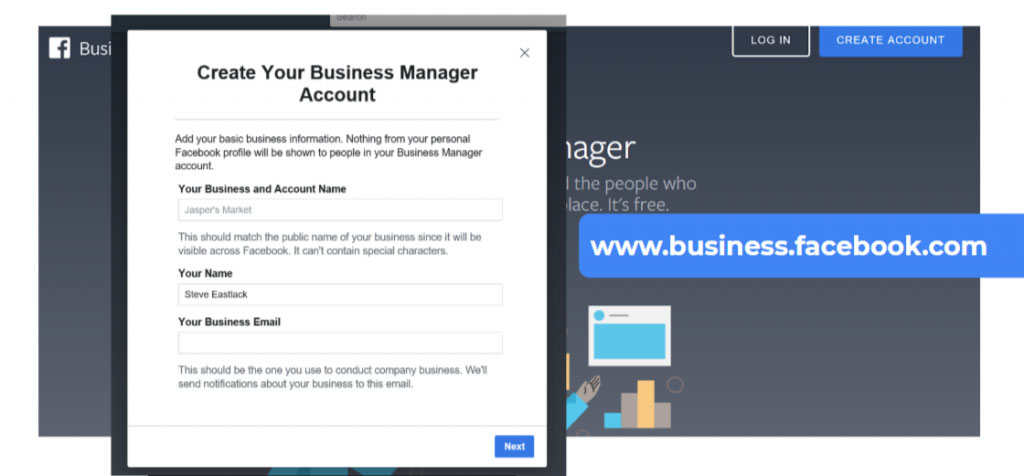 Developing Your Strategy
What does a successful Facebook and Instagram ads strategy look like? It's recommended to first start with building an audience and creating awareness. Then focus on generating leads once you've established your brand as a trustworthy, credible option.
As you build your Facebook and Instagram Ads Strategy, consider these four questions. Having these answers will help direct your ad creative (copy and visuals) deliver a targeted and relevant message.
What product or service are you specifically promoting?
What is your customers' pain point that you'll want to help solve?
Which stage of the marketing funnel is your ad targeting?
What will you focus on: leads, brand awareness, site traffic, sales, or something else?
You'll also have a number of marketing objectives to choose from when starting an ad. These range from:
Awareness objectives: Brand awareness, Reach
Consideration objectives: Traffic, Engagement, App installs, Video views, Lead generation, Messages
Conversion objectives: Conversions, Catalog sales, Store visits
For small, local businesses that rely on creating an online presence that covers their entire service area and not just their physical business location, you'll want to focus your strategy on four marketing objectives specifically:
Traffic (consideration)
Lead generation (consideration)
Messages (consideration)
Conversions (conversion)
Diving down even further, you'll also want to create three specific types of ads:
Image ads
Carousel ads
Video/Slideshow ads
You'll want to start by reaching as many potential customers in your local area as possible with an awareness ad to warm them up and nurture them with a lead ad later on.
Starting with an awareness ad can help you keep costs down while you begin building an engaged audience. These ads typically see low costs for clicks and creating an ad with a high relevancy score (a rating system that reflects how relevant your ad copy and visual is to your audience) can drive down costs even greater.
The idea here is to run this awareness ad continuously and monitor and update the ad copy, visuals, and call-to-action when necessary. That way, you are always getting new prospects into the top of your marketing funnel.
Then, once you have built up an engaged and qualified audience, serve them a lead ad to get them to convert into a lead.
You can choose to direct people to a specific landing page on your website to convert them or utilize Facebook's Lead Forms. In general, you can expect to generate more leads through a Facebook Lead Form than you would by sending people to a landing page on your website, but the quality will be less. So there's a trade-off to some degree that you have to be comfortable with. Ultimately, it comes down to whether you prioritize quality or quantity more.
Creating Your Facebook and Instagram Ads
When creating the components of your Facebook and Instagram ads, you'll want to focus on getting attention, generating interest, creating desire, and compelling them to take action.
The first thing you'll want to make sure your ad has is a compelling offer. You can attract the right prospects with an offer that is high value, relevant, and easy to claim. No matter how great your ad copy and visual is, if the offer doesn't resonate, you'll just be wasting money because no one will click.
With the offer in mind, then you'll want to focus on the ad copy. Your messaging should create interest and desire.
Your ad copy could make a bold statement, get people to relate to a specific pain point, or paint a picture of your solution.
In the ad copy, you'll want to have a clear call-to-action. You don't want anyone feeling uncertain about what it is you want them to do with your ad. You can also add urgency and give clear directions on how to claim the offer as an added incentive to take action sooner rather than later.
As far as the ad creative goes, leverage images and videos to create interest and desire too. Some rules of thumb to follow are to only use high-quality images in your ads and a video is always better than an image if you can manage it.
To keep costs low, you can set daily spend limits and an overall campaign budget so that you don't spend more than you're comfortable with. It's always recommended to start with a budget on the lower end of the scale to test your ad creative. Then, once you've built up some ROI and have a better understanding of what works and what doesn't, you can increase your budget to your liking.
Connecting Facebook and Instagram Ads with Google Ads
Did you know that those who click on both social and search ads are 2x more likely to convert? Or how about audiences for search ads that have already seen Facebook ads generate 30% more ROI and 7% higher CTR?
It's important when connecting your social media ads with your search and display ads, that you have a similar objective and goal, so the messaging mirrors one another. If you notice that people are clicking on your search ads after searching for specific queries, you can then use those search queries to write more relevant ad copy on social media.
Through remarketing and adding the Facebook pixel to your landing pages, you can create a custom audience on Facebook of everyone who has visited your landing pages. That way, your Google Ads campaigns will consistently send new traffic to your Facebook audience that you may have not otherwise reached.
Step 1: Add the Facebook Pixel code to the header section of your landing page.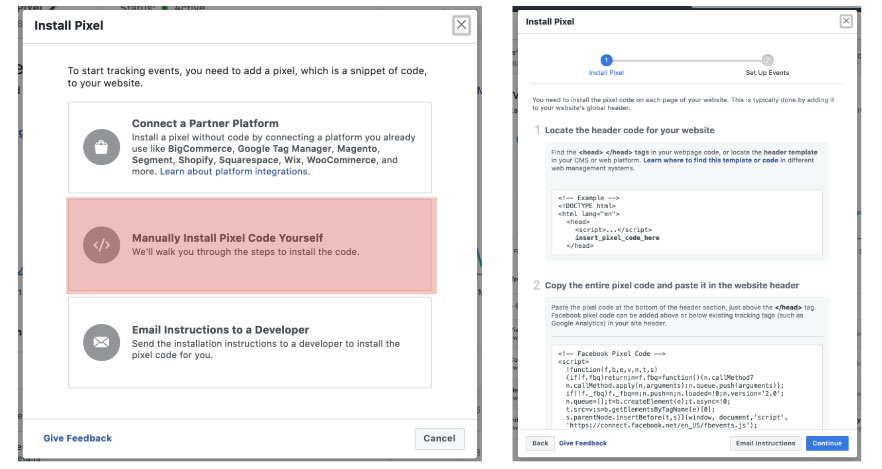 Step 2: Create a website traffic custom audience that syncs with the Facebook Pixel.
The best strategy will leverage both Google Ads and Facebook and Instagram Ads together.

Here's a quick recap of what we've covered.
Your first (and ongoing) campaign should be an awareness ad
Once you've built a warm audience, you can start a lead generation campaign
Video ads get the best engagement and results
Install the Facebook Pixel on your website to create custom audiences
Upload customer/prospect lists to create custom audiences
Your ad creative should follow the awareness-interest-desire-action formula
Remarketing is helpful in converting prospects who didn't convert the first time
Google + Facebook = Results
Online advertising is all part of your overall digital strategy
Improve Productivity and Visibility with Software
Like with Google Ads, you will not find great success with Facebook and Instagram Ads if you "set it and forget it". It's easy to create an account, start a campaign, blow through your budget, give up, and claim that advertising isn't the right course for your business. Hopefully what we've covered here has helped you become more comfortable with the idea of advertising your business on Facebook and Instagram.
While you'll have to become familiar with Facebook Ads Manager, it also is beneficial to work with a local marketing software that can provide greater visibility into how your advertising efforts impact your business's bottom line. With the Surefire Local Marketing Platform, you're given a single source of truth, meaning you can access your leads, ad spend, and get reporting on the health of your online presence. You can also work with an Ads Specialist to help you manage and run your advertising campaigns. Request a demo and learn more today!