No matter where you're located or what area of law you practice, there's a good chance that your law firm has some local competition. Ideally, when potential clients use an online search engine to find a lawyer/attorney in your city, your firm's website would be the first result that pops up. Unfortunately, getting that coveted #1 spot is more difficult than it may seem.
This is especially true if you're looking to secure a spot in Google's Local Map Pack for your business. Specifically, a Local Map Pack refers to the first three Google Maps listings that show up when you search for a local business. Because these listings are displayed prominently below the actual map of local results, businesses that rank in the Local Map Pack enjoy significantly higher click-through rates than other businesses.
This same concept applies to law firms. A law firm displayed in the Local Map Pack will enjoy key details from its Google My Business listing highlighted. This includes:
the name of the law firm
the overall rating out of five stars
the location and phone number
the firm's business hours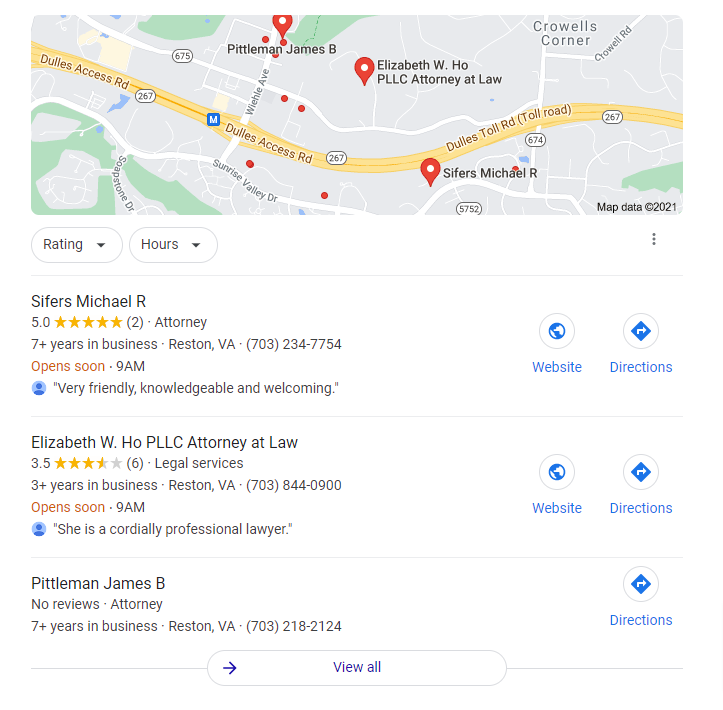 By having a better understanding of which factors determine Local Map Pack rankings on Google and what you can do to improve your own law firm's ranking, you can ramp up your online marketing strategy and possibly gain some new clients in the process.
How Are Local Map Pack Rankings Determined?
There are many factors that come into play when Google's algorithm determines which business listings show up in a Local Map Pack for a specific search term. First and foremost, the search itself needs to have what Google refers to as "local intent." This means that the search phrase contains a specific city or ZIP code or wording such as "near me."
When a query is determined as having local intent, Google's algorithm then draws on a number of factors and data points to generate a Local Map Pack with three results highlighted. Typically, the businesses highlighted in the Local Map Pack share some common characteristics that may include:
having a complete and updated Google My Business profile
being in proximity to the person initiating the query
the prominence of the business on review sites
having many backlinks on the web
Getting Started With Google My Business
Wondering how to improve your law firm's Google Local Map Pack ranking? First, you'll need to make sure you have a Google My Business profile set up. If you're not sure where to begin, we've outlined some basic steps below.
Create (Or Claim) Your Business Profile
Begin by creating your Google My Business profile. It is 100% free to sign up for and use Google My Business. All you need to get started is the name of your business and the category of your business (which should be lawyer/law firm).
In some cases, you may find that a listing has already been automatically generated for your business based on customer reviews or other information that is readily available online. If this is the case, then you will need to claim your listing through the Google Maps page directly.
Add Details About Your Business
The next step to setting up your Google My Business profile is to add as much information as possible about your law firm. This should include:
your law firm's address
your firm's contact phone number
your firm's daily business hours
your website URL
If you have any relevant photos of your business, you can also upload these to your Google My Business profile. You should also include some details about the specific area(s) of law that you practice.
Verify Your Google My Business Profile
Even once your profile is created and filled out, you will still need to go through a formal verification process through Google. The purpose of this is to ensure that you are, in fact, who you claim to be and that your business is legitimate.
Depending on the type of business and other factors, you may need to verify your business by snail mail, email, or telephone. Either way, the verification process can take days or even weeks to complete, so be patient. Once your business is verified, your profile will go live.
How to Improve Your Google Ranking in the Local Map Pack
Once your Google My Business listing is live, you'll want to take steps to optimize your Local Map Pack ranking for law firms. Fortunately, there are a handful of relatively simple yet effective steps you can take to improve your firm's chances of showing up in that coveted spot.
Optimize Your Google My Business Listing
We already discussed how to set up your Google My Business page in the section above. However, even once your listing is set up, it's important to regularly update your profile in order to keep it optimized for display on the Local Map Pack.
For example, if your business hours change or if you have holiday hours to share, be sure that this is reflected in your My Business profile. Whenever possible or relevant, you should also add photos and other new information to your listing to keep it from getting stale. As a general rule, it's a good idea to review your firm's listing at least once a month so you can make changes or updates as needed.
Encourage (And Respond to) Customer Reviews
Reviews play an important role in your law firm's Local Map Pack ranking, so make sure you're encouraging your clients to leave reviews and that you're taking the time to respond to reviews as they come in. If your business has a lot of good reviews, potential clients are more likely to trust your business and turn to you for their legal needs.
Even if you have a few less-than-perfect reviews, however, it's all about how you respond to them. Taking the time to address a negative review in a timely manner shows potential clients that you care enough to "make things right." However, you shouldn't just respond to negative reviews; taking the time to post a quick response to each positive review can go a long way, too.
Develop a Link-Building Strategy
Having quality backlinks around the web can also help to improve your firm's ranking, increasing your chances of ending up on the Local Map Pack for a particular search query. The more mentions of your law firm around the web (and the more links back to your firm's website), the better off you'll be.
So, how can you build legitimate backlinks to your firm's site? Start by making sure you've submitted your website URL to local directories. This includes not just Google Maps, but other local platforms like Bing Places and Yahoo! Local. If you haven't done so already, you may also want to set up business profiles on sites like Yelp and Yellow Pages.
Finally, you can encourage backlinks to your site by writing guest blogs for other legal websites. This can also help to boost your credibility as a lawyer/attorney in your area of practice.
Suggest Edits for "Spam" Listings
If you've taken all these steps and are still not showing up in the Local Map Pack, then you may want to do a little more investigating into the firms that are showing up in this coveted spot. Unfortunately, it is not uncommon for "spam" listings to end up in the Local Map Pack due to practices like keyword stuffing, the use of fake phone numbers/locations, and more.
If any of the current Local Map Pack results appear to be spam, you can actually take measures to have these listings removed. The best way to do this is to click on the "suggest an edit" link on the firm's listing and select either "change name or other details" or "remove this place." From there, your suggestions will be submitted for review by Google. If the listing is determined to be spam, it will likely be removed within a few days—potentially opening up the spot for your own business!
Attend a Surefire Local Marketing Platform Demo!
Getting your law firm ranked on Google's Local Map Pack can be challenging—but if you're able to achieve this feat, your law firm will benefit greatly with more traffic to your website and more potential new clients. Likewise, being ranked in this position can boost your firm's local reputation significantly.
If you're feeling overwhelmed by all the steps you need to take to optimize your law firm's local rankings, let our local marketing software do the work for you. At Surefire Local, we specialize in helping businesses like yours boost their local presence. Meanwhile, you can free up your valuable time to focus on other important aspects of running your firm. Find out more about Surefire Local today by contacting our team. You can also request a free demo to see first-hand what our local marketing software can do for your business.