Welcome to the scoop, where Surefire spills entertaining news and cures your digital marketing blues. Check back every other week to get the latest.
---
This week, our office is inspired by:
"None of us is as smart as all of us." -Kenneth H. Blanchard
Fired Up
We have some Surefire news for you. We are excited to announce that Maureen Moran was promoted to Chief Technology Officer. She has been and continues to work hard to develop and perfect the Surefire Local Marketing platform for our customers. Seriously, she's in the office at all hours of the day (I don't think she sleeps)! Want to see what her hard work has been going towards? Check it out here.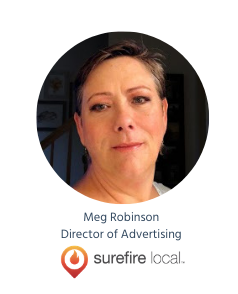 Meg Robinson is now onboard as the Director of Advertising, taking control of the Local Service Ads program here at Surefire. She's been a tremendous influence already with her experience in online advertising. In fact just this morning, she told me that we've successfully launched 300 Local Service Ads for our customers! If you're able to, join Meg on our first ever Local Service Ads webinar on Thursday of next week to learn everything you need to know about Google's new advertising program.
Switch it on
Do you need new ideas about how to improve your online presence? How about we talk this week: you bring the questions and we'll bring the ideas. After the meeting, one of our marketing experts will send you a Google Smart Light Starter Kit. That's a google home mini and a smart light bulb, everything you need to control your bright ideas. How's that for an idea?
Become a Time Master
If you give us one hour of your time, we'll give you hours back in your day. On Tuesday (May 7th), Mark G. Richardson is hosting his popular Business Mastery Workshop but with a new spin. He'll show you a time mastery system that puts you in control of your clients, your team, and your own day. Learn more and register here.
Surefire Bloopers
It's almost summer but at the office, "Winter is coming"! Shashi Bellamkonda, Chief Marketing Officer at Surefire Local, found the iron throne. Surefire's office went crazy; some said we should get a replica in our new office space (coming soon). Best of all, one coworker said, "We want to see the dragons! Do they breathe Surefire?" You'll have to wait and see.