Most businesses are now familiar with Google Business Profiles, formerly called Google My Business. However, in usual Google fashion, they have once again made some changes to the Google Business Profile (no they didn't change the name again). This time, Google has added a new "Profile Strength" label to all its profiles. Since this is new, not many people are familiar with the new profile strength label and how it works.
So let's talk about Google's new profile strength label, what it will mean for businesses going forward, and what you can do to strengthen your Google Business Profile rating. Then we will give you some Google Business Profile optimization tips.
What Is the New Google Business Profile Strength Label?
In the middle of 2022, Google began testing a profile strength status icon on Google Business Profiles. That feature is now out of testing and has gone live. This new profile strength label places a small round icon on the upper right-hand side of a business's GBP New Merchant Experience (NMX) page. The purpose of this label is to show business managers how complete their GBP is.
What Does the Google Business Profile Strength Label Look Like?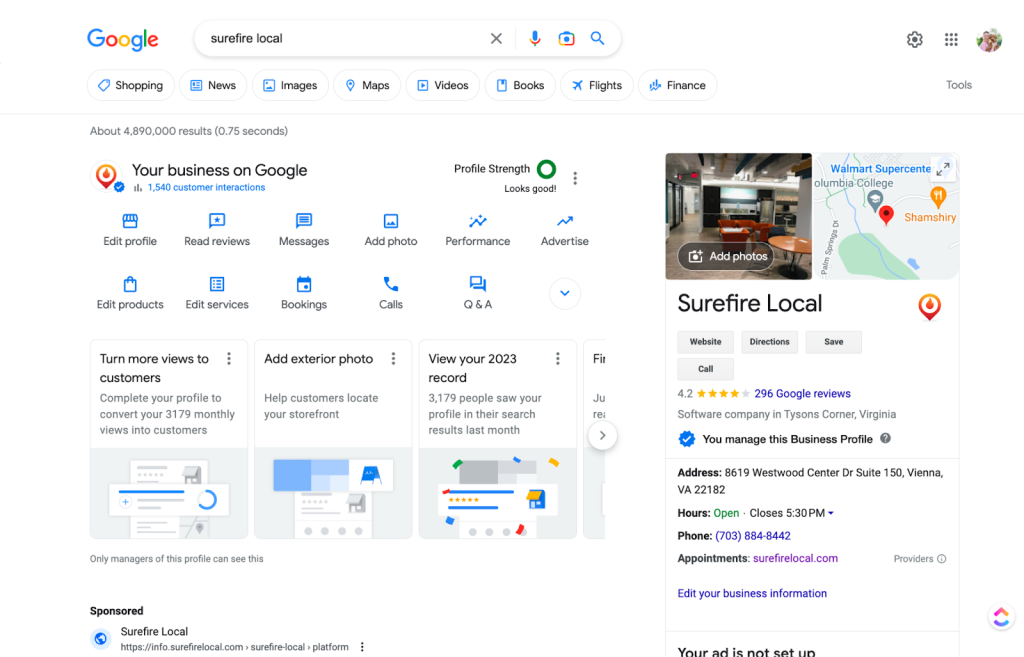 Each Google Business Profile page will now show a circular icon on the upper right-hand portion of its page. The circular icon changes colors as you complete the various sections of your profile. You will see a circular icon that is either orange for a partially completed profile or you will see a green icon for a fully completed profile.
If you have an incomplete profile, there will be a call to action underneath the icon that asks you to complete the missing information. If your profile is complete, there will be a label that says, "Looks Good."
The Google Business Profile Icon "Bug" Is Now Fixed
When Google initially rolled out the GBP profile strength label, it showed some profiles as incomplete if that business was not using Google Ads. That led some managers to believe the profile strength label was a money-making effort on Google's part. However, that does not seem to be the case as Google has since changed this. So no business is required to sign up for Google Ads as part of completing their GBP. However, if you are reading online articles that contain information indicating this, then that is old information and has since been changed.
Unfortunately, that outdated information can still be found in many of the articles found on Google. It appears those articles were written when the profile strength label first came out, but very few managers updated their articles to reflect the new information when it changed.
What Does the New Google Business Profile Label Mean for Local Businesses?
The new GBP strength label is not visible to the public. It's only visible to managers. Therefore, the new strength label is more so a reminder to business owners that their Google Business Profile needs some work. Remember, that the more complete and updated your Google Business Profile is, the better visibility you'll receive on Google Search and Maps.
It's also a reminder to GBP managers about how important it is to complete and maintain an accurate and complete profile. And to do that, you must complete every onboarding step for your Google Business Profile Listing. Doing so is the only way to get your strength profile rating icon to turn green indicating it's complete.
What Can You Do to Improve Your Google Business Profile Strength Rating?
Your profile strength is not a ranking factor in the search results per se. However, strengthening your GBP profile goes hand in hand with optimizing your Google Business Profile (more about that in a moment) which, in turn, could affect how Google determines where to rank your business on the search engine results pages.
However, if you want to improve your GBP, you must thoroughly and accurately fill out your Google Business Profile. Don't skip any of the sections and always make sure the information you post is accurate and consistent across all your digital assets.
Now let's talk about some Google Business Profile optimization tips. The more you optimize your profile, the better rankings, brand exposure, brand reputation, traffic, and income you will get.
Six Important Google Business Profile Optimization Tips
Use these optimization tips to improve your profile, increase visibility, create customer goodwill, and help Google better understand what your business is all about.
1. Fill Out Your GBP Completely
The number one best way to optimize your GBP and improve your profile strength is to fill it out completely and accurately. Make sure your business description, hours of operation, website URL, phone number, and email address are included on your profile and that they match all your other digital assets exactly.
Additionally, make sure you add related keywords to your profile. Just like your website's SEO, Google uses a variety of signals, including keywords, to determine which businesses to include on their search results pages.
2. Get More Reviews
Reviews are a huge part of the buying process for most people. So the more positive reviews you have, the better brand sentiment you will have. Therefore, always ask and encourage your customers to provide reviews for you. You should also ask them to be as descriptive as possible in their reviews. This will help others identify with your review. It will also help Google when it comes to ranking your business.
It's also important to respond to all your customer reviews and feedback–good and bad. This will help create a positive brand reputation, goodwill, and show potential customers that you are honest and trustworthy.
You can make it easy for your customers to provide you with reviews by sending them links to the various review sites such as Google, Yelp, Angi, etc. You can also send them email or SMS reminders that include those links as well.
3. Add Photos and Videos to Your Profile
Adding photos and videos to your GBP will help enrich your profile and improve your visibility in an image search. You could add photos of you and your team, your office, your warehouse, completed projects, educational videos, and anything else people might find helpful.
4. Publish Google Posts
Develop high-quality, high-value content your customers are looking for. Doing so will help you build brand recognition and brand authority in your industry. If you want to find powerful topics for your content, search the forums, your social media pages, and the social media pages of your competitors. Then look for what's trending, the questions people are asking, and what those people find frustrating or unacceptable. You can then use that information to write powerful content that people will be eager to read.
5. Make Use of the GBP Product Catalog
If your business offers products, the Google Business Profile editor gives you the ability to showcase those products. This feature gives you the ability to provide your customers with specific information about your products/services, such as pricing, photos, product/service details, and more. Additionally, the more product details you post, the more it helps Google to better understand what you do.
6. Use Marketing Tools to Maintain Your GBP's Accuracy
It can be difficult to maintain consistency across all your digital assets, including your website, social media pages, your Google Business Profile, and all your business directory listings. The best way to make sure all your information is posted exactly the same while continually updating those platforms is to use online software, marketing tools, and resources. That software will not only help you do that, but it will also make all that work much quicker and easier.
Would you like to learn about such software? What if we told you that you could consolidate boatloads of your daily digital marketing tasks onto a single platform? Would you be interested?
We're guessing you said yes and probably quite emphatically at that…right?
Well, it's your lucky day because we have such software that can do all of that and more! It's called Surefire Local Business Intelligence Marketing Software.
Keep reading to learn more.
Attend a Surefire Local Marketing Platform Demo
Surefire Local provides small and medium-sized businesses with business intelligence marketing software at a fraction of the cost of other online tools and digital marketing agencies. This software can take many of your most important online marketing activities and enable you to perform them all from one platform.
That means no more logging into multiple programs to perform singular tasks. Everything can be created, managed, and maintained on the Surefire Local platform. This will significantly reduce the amount of time you spend performing your daily digital marketing tasks.
This program can help you optimize your lead generation, reduce your cost-per-lead, and generate more revenue for your business, simply by using the Surefire Local all-in-one marketing platform.
The best way to determine if this software is something that would help your business is to attend a Surefire Local Demo. This demo will help you make an educated decision about whether this platform is right for you.
Attend a Surefire Local Demo Today!
We hope you found this information on Google Business Profile Optimization Tips helpful. We look forward to hearing from you!