As a professional chiropractor, you want your business to do more than just get by; you want it to thrive. That means increasing your visibility online and getting yourself found in search.
One of the ways to gain more visibility is to have your business featured in the Google Map Pack. However, you can't buy your way into this prime listing. You have to put the work in and optimize your online presence to have a chance of being listed.
In this article, we're going to provide our top Google Map Pack strategies for chiropractors. We'll show you what the Map Pack is, why you want to be featured, and how you can improve your rankings.
Understanding the Google Map Pack
If you haven't heard of the Map Pack before, you'll be glad you did, but what is it? What does it look like, and where can you find it?
Go to Google search and type in "chiropractor near me". What you'll see first is a map with red tags indicating the locations of several chiropractors.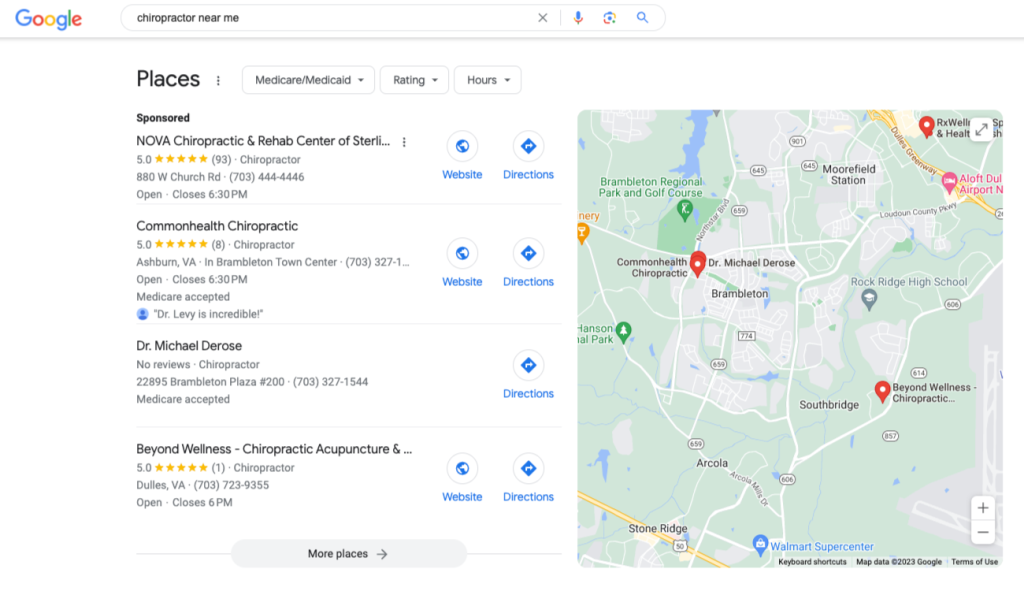 Underneath that, is the Google Map Pack we're interested in. What you should see is a list of three or four chiropractors in your area. Below are the general Google search results.
As you can see, if you appear in the Map Pack, you're in a prime position right at the top of Google, giving you high visibility and the likelihood of more calls, more traffic, and more chances to convert browsers into new patients.
When you look at the Map Pack, there is a lot of information about the chosen three chiropractors. If you click on a name, it will take you through to the chiropractor's full Google Business Profile (GBP), but from a potential customer point of view, you don't have to click anywhere else. There's the business name and contact details, a featured image, if they are open, and what time they close. And if they have any reviews, you can see the star rating, how many reviews they have in brackets next to it, and sometimes, you'll get snippets from reviews too. If you're a customer, you don't have to go anywhere else. You can "click-to-call" right from the listing and speak to someone or click through to the reviews and browse what other patients have said. Everything is right there at your fingertips if you're searching for a chiropractor.
And, as a chiropractor, you want it to be that easy for your potential patients. You want them to be able to see that kind of detail in your listing and to be able to quickly make a decision and speak to you.
That's what being listed in Google Map Pack can do for your business.
How do you improve your ranking in Google's Map Pack?
The best way to gain a listing in the Map Pack is by claiming and optimizing your Google Business Profile.
It's quite straightforward to claim your profile and it's a free listing provided by Google themselves, so you definitely want to take advantage of this, if you haven't already.
Your Google Business Profile is a business directory listing with plenty of space for what you do, your services, contact details, high-quality images, opening hours, and more. And there's space for people to leave reviews for your chiropractic clinic.
However, it's not enough just to have a GBP. You need to optimize it, make it welcoming and highly useful for searchers, and keep it updated regularly.
How do you optimize it? Fill in thoroughly every single section of your profile. Make sure you've written excellent, enticing, well-keyworded copy that gives a great impression of your practice. Fill in your contact details, your opening hours, and a list of your services. Choose the right categories for your business too. This helps you get found.
Don't forget to add some frequently asked questions under the Q&As section. This helps both you and your audience as people can quickly read what they want to know and instantly get that information, while you save time not answering the same questions on repeat.
Think about SEO when filling in your profile, just as much as you would when creating any other copy. Decide on your main keywords, long tail keywords, and related keywords, and use those in your copy, along with local keywords to give you greater visibility.
Add high-quality images and videos to show your visitors what your clinic is like inside and out. People want to see shots of the outside of the building to help them find you and the inside of the building, your friendly, smiling staff, and more, so they can see what sort of customer experience they'll get. Images must be of high quality because anything else reflects poorly on you and affects your reputation. Even mobile cameras are so good now that you should be able to get some good shots of your business.
You can also post on your profile and share the latest news, new services, your latest offers, and more, to keep people informed and make your profile an attractive and informative space to visit.
Quick tips for building your online presence to gain a Map Pack listing
In addition to a fully optimized GBP, you also need to build your online presence. The more visible you are and the more places you can be found online, the more chances you have of appearing in Google Map Pack.
1) Reviews
The deciding factor for which businesses are chosen for the Map Pack can be how many recent positive reviews you have on your Google Business Profile, so this definitely has to be a priority.
Here are the factors that are important when aiming for a Map Pack listing: Star rating, description of reviews, attributes added, photos uploaded, and how many reviews the person linked to their Google profile.
You must have a consistent review management system in place. You need to regularly ask your happy customers for reviews, manage your review requests, and reply to your reviews.
While older reviews are great, people tend to only count the last few weeks of reviews. Why? Because they want to know what your practice is like now. Not what it was like two years ago. What this means for you is that you need to keep getting new positive reviews to show that your business is well-regarded, current, and provides an excellent customer experience.
Even the number of reviews can make a difference between listing in the Map Pack or not making it, so do focus on getting those reviews.
When you do, you need to take the time to reply to them. All of them, including any negative ones. It's really important that people can see you interact and respond with your reviewers. Your reviews provide important social proof and your responses give a taste of what it's like to come to your clinic and talk to you.
Not only that, but if you handle your negative reviews well, you're likely to impress any visitors to your profile. Very few people expect perfection. What they want is honesty and authenticity, and great customer service. If you get a negative review, don't dwell on it or let it get you down, but do take note of any reasonable and helpful feedback it provides. This is priceless information where your customers are literally telling you how you can improve and what they want. Do your best to take the discussion offline to a phone call, so you aren't having a public argument online. You can do a much better job by phone of calming an angry customer and handling any complaints. If done well, you might even get the reviewer to turn the negative review into a positive one. And everyone else will take note of that and think more of you for the way you handled it.
Managing every aspect of your reviews can be difficult. It's hard to keep up with review requests and reminders, who has reviewed and who hasn't, and then you also have to find time to reply to each review quickly.
Luckily, there is a solution. Surefire Local's all-in-one marketing platform can help you manage, request, and track reviews. And you can see all of your reviews in a timeline view, including from your GBP and business directories. You can reply to each review right from your dashboard and see what you can learn from the feedback given.
2) Business Directories
Sites such as your GBP, Yelp, Angi, and others provide you with what's known as citations. A citation is a mention online of your Name, Address, and Phone number (your NAP). Fill in your details on reputable business directories and you'll soon start to have multiple citations to create an even stronger online presence. You must also keep each of your business directories fully optimized and regularly updated.
The more places Google can see you online and the more places people can find you, the higher your visibility and the more chances you have of appearing in the Map Pack.
Surefire Local can save you time here, too. Instead of filling in and updating your listings individually, our local marketing software can update over 80 business directories, including your Google Business Profile, right from our dashboard, with just a few clicks. This also ensures consistency and that the right information is present across the internet.
3) Website SEO
We've mentioned doing keyword research before when completing your Google Business Profile, but it's so important that you know your main keywords, long tail keywords, and local keywords to use on your own website, as well as on your business directories and social media.
Ensure you're filling in your main keywords in your meta titles and meta descriptions, that you're including keywords in your headings and sub-headings, your first paragraph of your copy, and throughout your marketing copy and your blog posts.
Don't keyword stuff, but do ensure you use the right keywords for each page on your website, including related keywords.
Add quality images to your site, just as you did on your Google Business Profile, and use the alt text and image descriptions to add in keywords here too. Quality images are highly attractive to potential clients. They want to be able to see what your practice is like inside and what they can expect. Google also rates high-quality images and will think of your site as high-quality.
When looking at your website, ensure you have easy navigation, great copy, and that it's easy for visitors to find what they are looking for. Site speed is also important. No one will wait more than 3 seconds for your page to load before they disappear, potentially off to the competition. Site speed is also a ranking factor for Google, too, so test your site speed and optimize it.
4) Community Engagement
Google loves to see great community engagement. That's one reason why it's important for you to reply to your reviews. But it's also impressive for potential customers when they arrive at your Google Business Profile to find a vibrant, engaging page with a lot going on.
Encourage your customers and potential customers to ask questions on your Google Business Profile, upload their own photos, and write reviews. When they do, interact with them. Be personable and friendly and authentically you. People can tell when you're genuine and it's highly attractive. They will respond to that and your engagement and visibility will go up, which could take you even nearer that precious listing on Google Map Pack.
Taking these steps to optimize your brand presence for the Google Maps Pack search results is one of the most effective ways to attract nearby customers in your area.
Attend a Surefire Local Marketing Platform demo
Every step you take to optimize your Google Business Profile and your online presence gives you more visibility and creates an excellent impression of your business. You might well end up in the Map Pack, but even if you don't get there immediately, all the work you've done is still a win-win.
But, with so many moving parts making up a growing online reputation, make life easier for yourself by trying out Surefire Local's business intelligence marketing software.
We can help you manage your reviews and your business directory listings with just a few clicks, but we can also assist you with every important aspect of your online marketing, including social media, email management, content creation and management, paid ads, and more.
And you'll get clear reports and analytics designed to show you exactly how well your marketing is working and what you need to do more of.
Why not book a demo with our professional team?