The Value of Facebook
There are so many social media marketing tips for small businesses, however, Facebook is one of the top platforms that local businesses shouldn't overlook. Although it may take time to develop your business page, we encourage local businesses to stick with it even when it gets tough. Ultimately, business pages were built to help you succeed. Facebook supports a wide variety of business goals and will connect you to their free or paid tools to help you reach them.
What are your goals?
Build brand awareness.
Promote your app.
Grow sales online.
Increase local sales.
Generate leads.
Retarget existing customers.
Facebook is certainly a valuable platform that you need to be on, especially if any of those goals resonate with your strategic plan. There are various Facebook features that you can use that will boost your social presence. Let's dive into 5 free features that will be valuable to your local business and business goals.
5 Facebook Features for Local Businesses
1. Add your business information and keep it up to date.
How will your customers find you if your business information is not up to date? Information including your phone number, hours of operation, and business address is key to maintaining your social presence. Without accurate and updated information, your prospects will lose trust in your local business.
Additionally, when you maintain your business information on Facebook, it allows you to reach people on their phones. A vast majority of Facebook users are mobile, which makes it essential to keep your business information updated. Users could be searching for businesses and if your information isn't accurate, they'll be more likely to find a more reliable business elsewhere.
2. Utilize Facebook reviews and recommendations.
When customers want to write a review on your business page, they can choose to recommend or not recommend your business. There is no longer an option for star ratings, however, recommendations are even more powerful endorsements. When a customer publicly recommends you in a group or to friends, it'll automatically appear on your page for everyone to see.
Requesting reviews should consistently be on your to-do list. If you have a brick and mortar location, encourage visitors to "check-in" on Facebook. Usually a day later, Facebook will send them a reminder to write a review. Ultimately, you'll be able to learn from your customers and uncover what does and doesn't resonate with your audience.
3. Set up Facebook events.
Creating a Facebook event is a great way to reach your local community. Connect with and raise awareness among your neighbors by setting up an event. You can manage and track your event performance in Facebook's easy-to-use insights dashboard, where you can see metrics like clicks and signups. Within the dashboard, you can view and respond to posts from guests and engage with the event attendees through conversation. Facebook will even give you recommended actions to help improve the performance of your events. And if you are looking to reach an even larger audience, you can run a Facebook ad campaign.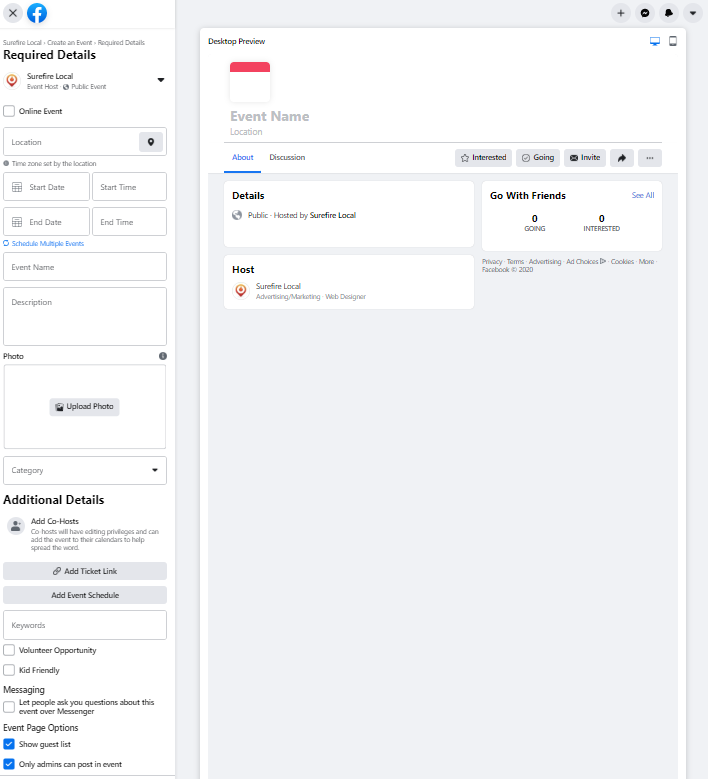 4. Set up Facebook offers.
If your local business is running any offers, create the offer on your Facebook page. By offering a discount, you can attract customers and build brand awareness. This is a free and unique way to reach your local audience and engage with prospects. You can distinguish what your offer is, the discount type, the item and/or service you are discounting, and where your offer is available.
5. Set up the products and services tab.
Facebook allows local business pages to publish a products and services tab. Within the services tab, you can include the name of the service, price (optional), and a description. If your business only offers one service, for example, Roofing Services, you can still flesh out the details of the services. You create descriptions of a roofing replacement, roofing repair, roofing maintenance, etc. You could even include each type of roof that you can provide like slate, shingle, metal, or flat. The services tab is just another area to provide insight into what you do without prospects having to visit multiple sites to find out.
More social media marketing tips for small businesses:
Maintain and Manage Your Listings
It's been proven that before a prospect makes an inquiry, they're going to do a couple of searches for your business online. Facebook is one of the many sites that a small business has to regularly maintain and manage. You may not even realize that there are 70+ sites that your business can be found on. How will you know what site a prospect is going to stumble upon when they do their search? Sites that you may have never even heard of can have inaccurate information about your business. Ultimately, it could deter prospects when they find out your business information is not up to date.
It doesn't make sense to have an employee dedicated to managing your listings on 70+ sites each day. Time is always much better spent on growing your business. That's where software and marketing automation comes in to play. The right technology can help you manage your listings, which will make you more productive and efficient.
The Surefire Local Marketing Platform helps you get found online the moment people search for you by providing a dashboard to manage your business information. In an instant, you can update your phone number, hours of operation, address, offers, and more across 70+ listings in one place. With this all-in-one platform, there's no time wasted on marketing activities. Request a demo today to see how to manage your Facebook page and your business listings.