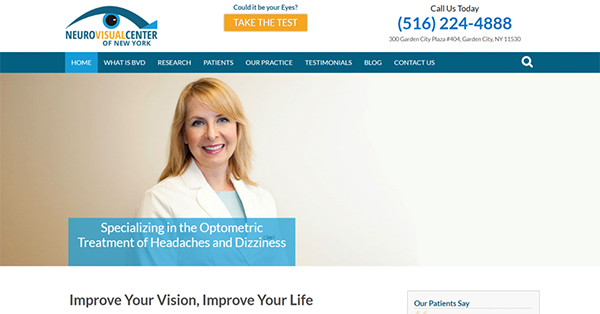 Dr. Cheryl Berger Israeloff at the Neuro Visual Center of New York specializes in vertical heterophoria (VH), that is a slightly rare eye disease that many people are puzzled by. She worked hard to add resources and content on her website (https://www.nvcofny.com/) that helps patients learn about vertical heterophoria and it's treatment.
They're based in New York and have clients fly in from across the country (and overseas). While they don't have a physical office in North Carolina, that didn't stop Mike Waze, a longtime WRAL meteorologist from reaching out. His story began with him experiencing a few strange symptoms, including becoming dizzy suddenly and having trouble walking in a straight line and even driving. Perplexed, he turned to Google and found the answer at Neuro Visual Center of New York's website. Mike said that the testimonials and questionnaire on the site echoed nearly all of his symptoms.
They referred Mike to a nearby doctor that he could trust in Raleigh, NC and is now doing well. Dr. Cheryl Berger Israeloff at the Neuro Visual Center of New York is a customer of Surefire and we're excited to see her hard work paying off. Her website is full of excellent content to help vertical heterophoria patients in the New York area. The addition of testimonials and a questionnaire on the website is also a great way to help patients. We congratulate, Dr. Israeloff for a job well done.