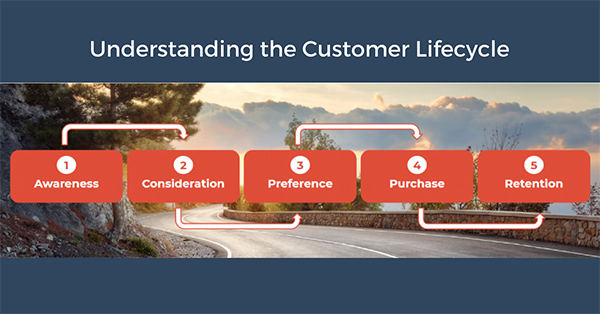 If you're looking for ways to effectively reach new customers and gain more leads to grow your home improvement business, it's high time to consider going digital. While traditional marketing solutions are still very much helpful in establishing your presence in the local scene, nothing beats the power of innovative digital marketing, especially in this day and age where most customers use the Internet to look for potential contractors for something as simple as a quick roof repair or as extensive as a complete roof replacement.
Understanding the Customer Lifecycle
A focused digital marketing strategy will help you stand out from your competitors and generate more leads for your business. To make the most out of digital marketing, though, you first need to understand the customer buying cycle and how it can impact your company; only then will you be able to create a digital marketing strategy that will work for your business.
A lot of home improvement contractors still underestimate the power of positive customer experience. They fail to realize that a good experience starts even BEFORE a customer decides to purchase a product or a service. The key to enticing customers (and eventually keeping them) is pretty simple: they have to like the interactions with you before, during and after purchase.
Here's an overview of the customer lifecycle, along with digital marketing tips to help you maximize each stage.
Stage 1: Awareness
What happens: The customer realizes they have a need and finds a contractor who can fulfill it.
What you can do: This is where customer experience actually takes off. If a roofing issue arises, customers will search for potential contractors online and read about the products and services you offer. Show them you treat their needs seriously by investing in your website. The number one rule is to make it user-friendly and easy to navigate! One way to do this is to make your website mobile-responsive. Google says 61% of users are unlikely to return to a mobile site they had trouble accessing and 40% visit a competitor's site instead. It's also smart to add information-driven content to your site, such as regular blog posts and video content.
Step 2: Consideration
What happens: The customer evaluates what you have to offer vs. what your competitor has to offer.
What you can do: At this stage, the customer has already seen your site, as well as read about your products and services. They're now going to check how your previous customers have rated the experience you provide. They will check customer reviews, ratings, comments and testimonials. They might also visit your social media profiles. With that in mind, you have to make sure your past customers can offer reviews and ratings on your own website. You should also have a presence on review sites, such as Google My Business, Facebook, Angie's List, Home Advisor and Yelp.
Step 3: Preference
What happens: The customer develops an emotional attachment to a product or service.
What you can do: Right now, the customer is starting to think about making a purchase. They will do a more in-depth research on your offerings, that's why you have to be prepared in convincing them that your product or service is better than that of the competitor. Think about the things that set you apart. These can be free estimates, exclusive warranties, and certifications, or 24/7 support. Make sure these details are all seen on your website.
Step 4: Purchase
What happens: The customer buys your product or service.
What you can do: The customer already thinks you're dedicated to providing the best solution for their roofing issues. They are ready to make a purchase; make sure they can get in touch with you easily and that your website has no bugs. In addition, you should optimize your CTAs, update your pricing page and give your customer flexible payment options.
Step 5: Repurchase or Retention
What happens: The customer returns to make another purchase.
What you can do: Contrary to what some business owners think, the customer's life cycle doesn't end once they made their purchase. You have gained customers, and you should keep them that way! Some of the things you can do to earn their loyalty are: send them an email with a "thank you" note, give them a promo code they can use for their next purchase, or ask them to subscribe to your newsletter or blog. In other words, make sure to stay in touch with them through various online platforms.
What's Next?
To successfully address the five stages of the customer lifecycle, you will need innovative tools and professional help. Surefire Local offers a hardworking tool to help local business owners like you do all that from a single, secure login.
To learn more about the Surefire Cloud and how it fits into your digital marketing strategy, schedule a demo by calling 888-804-8685 or emailing marketing@surefirelocal.com.