Decision makers will conduct their research very early on in the purchase process and it'll be the content that speaks to their needs that will be what wins their attention. A survey by SmartBrief and the Content Marketing Institute found these as the most important qualities business leaders look for in content when making a purchase decision.
Addresses their specific needs and pain points
Provides product/service specifications
Is more educational than promotional in nature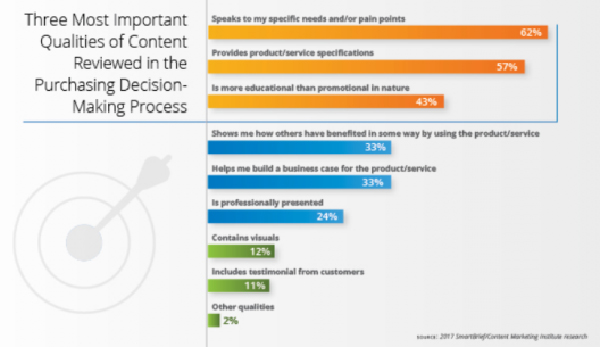 It's not surprising to see that decision makers prefer this mix of content. The study found the order of preference is:
Direct peer recommendations
Product reviews
Original research
In-person events
Case studies
Educational webinars
Have you wondered what these decision makers do once they discover this content? Knowing that the purchase decisions are often a shared responsibility, they will share it with colleagues via email, use the information to mention in conference calls and save it to collaborative folders where their teams share information.
Recommendations:
Even though the study was conducted with 1,200 senior business leaders across 18 industry verticals, these recommendations can be useful to most business owners, roofing contractors, manufacturers of roofing products, and more.
Educate: Don't create content that only sells. Instead, create content that educates and draws the attention of your customers even before they are thinking of the sales process.
Expand Your Digital Footprint: Spread content across several channels such as reviews, in-person events, demos, websites, case studies, and webinars. (Did I just give away the secrets at Surefire?)
Create Shareable Content: Make your content easy to share and by this, we don't mean just social media. Make it easy to email, offer to email it to colleagues, download as a PDF and of course, post it to places like SlideShare, Scribd, etc.
To download the survey results visit: https://www.smartbrief.com/about/content-marketing/cmi-survey
Did you know that there is a newsletter specific to the roofing industry? Sign up for the RT3 Smart Brief that you can read in your inbox 3 times a week. Who knows, your content may find another channel to get discovered.