If you decide to outsource your marketing to an agency, it's vital that you map out the working relationship upfront and have a way to hold them accountable. Otherwise, you'll have no real way to know what's happening. You want to make sure that they're following best practices, are completing your requests promptly, and aren't sharing your information, customer lists or marketing strategy. Without this transparency, working with a local marketing agency can be a frustrating experience that fails to maximize your marketing investment. Often you'll only catch on once the damage is done — as your SEO rankings drop, marketing costs increase or your leads dry up. Having the right marketing platform and tools can increase transparency into the work an agency has been doing on your behalf. It allows you to ask the right questions and hold your agency accountable.
Transparency Issues With Marketing Agencies

Agencies need to ensure they're keeping you informed. This means providing you with a clear explanation of what actions they're taking, why, and that they include documentation. Here are some common transparency issues that you should be on the lookout for when working with a digital marketing agency. First, the agency should give you access to all the accounts they manage for you. Period. Don't let them tell you an account can't be moved or that you don't need ownership. No matter what, there's always a way to give you access to your digital channels. Your marketing campaigns should be done in your own accounts, to which the agency has been granted access. Not the other way around. Also, be wary of agencies who claim that the best way to build your local SEO is for them to create and host an entirely new website for your business. This is a BIG red flag because it allows an unscrupulous agency to hold your digital presence hostage. For instance, if you ever decide to cancel, they simply delete said website (since they technically own it) and you're back to square one. Another problematic transparency issue that you might encounter when working with an agency is that they don't provide robust reporting or any meaningful proof of results. For instance, they don't have tracking or analytics set up, can't provide any industry or competitor benchmarks, or aren't responsive when you request details about the work they're doing on your behalf. As a business owner, you need access to this information so that you can make informed decisions on how to address marketing challenges, measure the effectiveness of marketing strategies and determine if an agency is offering a good return on your marketing investment.
Three Surefire Local Features That Help You Boost Transparency With Your Local Marketing Agency
With the Surefire Local Marketing Platform, you can rest at ease knowing that you have ownership over your marketing channels. You'll be guided through the process of setting up and connecting your website, your pay-per-click accounts (like Google Ads) and your social media networks to a single, all-in-one platform. You can grant access to trusted local marketing partners without fear of losing control of your digital presence. In addition to giving you command over your digital accounts, the platform comes with several built-in features that ensure that you have the transparency you need to effectively work with your marketing agency and maximize performance.
1. Insights & Analytics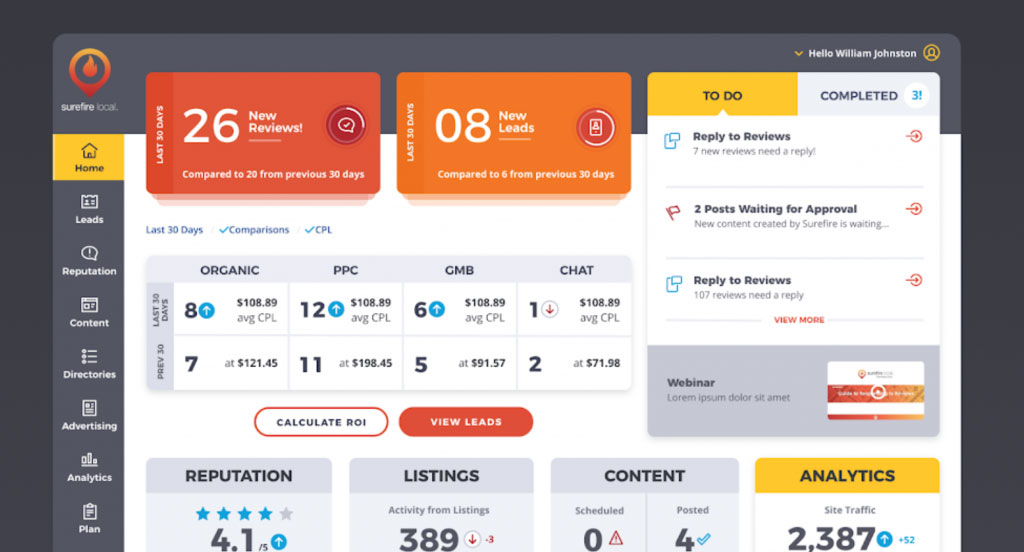 It might be that your agency has been running your marketing strategy without any sort of tracking in place. This is a huge mistake. Even if you think your marketing is getting good results, just consider how much more you could have accomplished if you knew what channels and tactics were driving results. Digital marketing without tracking and analytics wastes money. Knowing where you spend your money and where your returns are is important for any business. This means using analytics software to carefully gather data, so you can keep an eye on how an agency is spending your funds and track performance. The Surefire Local Marketing Platform maintains your web presence through a robust suite of analytic tools, including:
Local SEO — Track website traffic, actions from your directory listings and keyword rankings.
Paid Advertising — Know your ad spend, campaign performance and ad conversion stats.
Email Marketing — See the number of email and text marketing campaigns you have running and scheduled.
Social Media — Get meaningful engagement metrics for your social media networks, your online business directory listings and your blog publications.
Reputation Management — Stay up to date with your average star rating, review requests you've sent, those waiting for a reply and new online reviews your business has received.
Lead Management — Know the number of leads generated by phone calls, website forms and live chat/chatbots.
By carefully tracking all of this data, Surefire Local helps you to gather insights to identify new areas of opportunity for your brand. This includes digital marketing tactics that are getting results and things that need to be further optimized to maximize your ROI. We make it easy to get started and will guide you through the process of setting up tracking for all of your digital marketing channels.
2. Competitive Benchmarking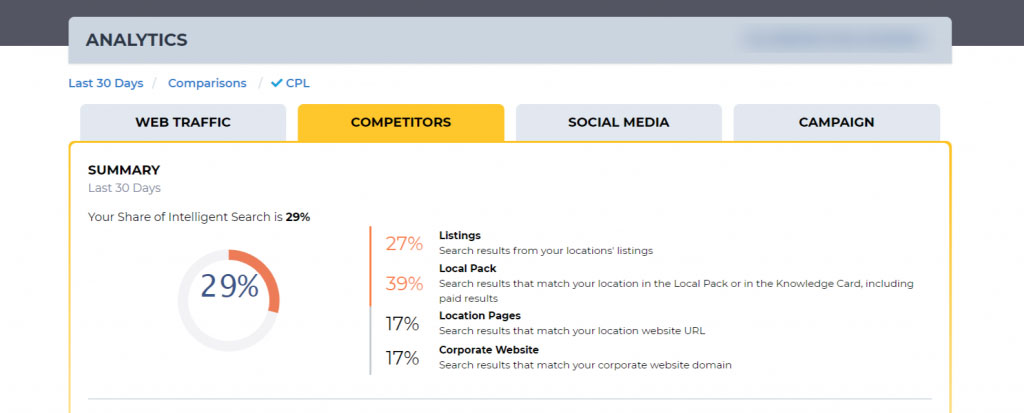 Don't let an agency try to pass off vanity metrics, such as "likes" on social media, as competitor research. These metrics don't tell you anything about how well — or poorly — their strategy is working in relation to your competition or how you're doing according to industry benchmarks. Understanding the players in your local market is a crucial point of business ownership. This means keeping an eye on your competitors using metrics such as search rankings and online customer ratings. This allows you to know where you stand from the perspective of a potential customer searching for your services or products. With the Surefire Local Marketing Platform, you can easily gather intelligence for competitive benchmarking with our Intelligent Search Tool. You'll know how your performance compares to that of other businesses in your local area in terms of organic search rankings, leads generated, reviews earned and average star ratings.
3. Marketing To-Do Lists

It's common for digital marketing agencies to push businesses to sign a long-term contract and to secure payment upfront. Once a business signs, there is little incentive for the agency to innovate or act quickly. You can ask them to complete specific actions for your marketing strategy, but rarely will you know if they follow through in a timely manner. There's very little accountability. Agencies know that, provided they keep to the terms of the contract, they'll get paid for their work — no matter how underwhelming the results. Instead of depending on vague reports of how things are going, you can look at performance results yourself using the Surefire Local Marketing Platform. This includes seeing exactly what your agency has done for you by viewing the built-in to-do lists in the platform and viewing which items have been completed. For instance, you can create task lists for things like:
Adding photos to directory listings
Sending review requests
Replying to reviews
Updating your featured message
Publishing a Google My Business Post
Publishing to social media
Publish a new blog post
Review new leads
Add new photos to your website gallery
Value of Having a Centralized, All-In-One Local Marketing Platform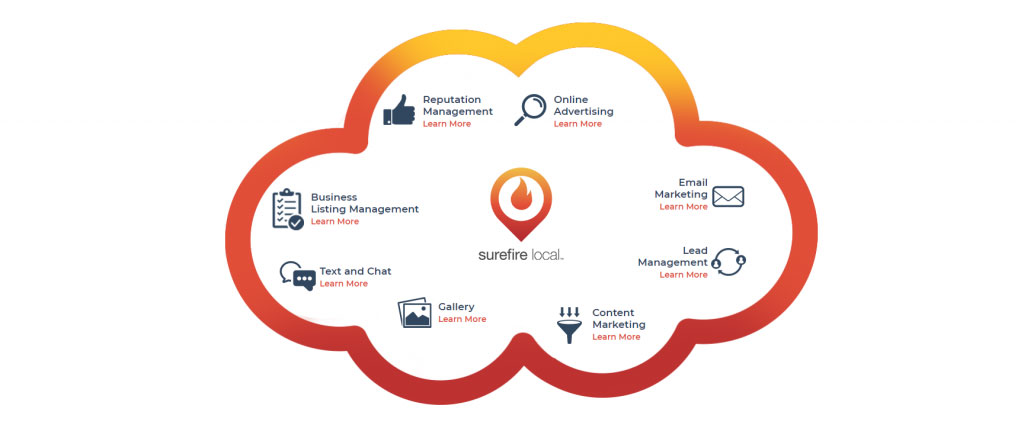 The Surefire Local Marketing Platform enables businesses of all sizes to generate new, qualified leads and guide digital marketing investments as well as elevate brand awareness and visibility to develop, grow and successfully scale businesses. Its intuitive and automated technology equips you and your local marketing agency with real-time, actionable insights into which marketing channels provide the greatest rate of return, as well as guidance and advice on the next steps to take. It makes transparency concerns a thing of the past since you control your marketing channels and choose when to invite a trusted agency to manage things on your behalf. With everything connected and working out of one place, you have access to everything your agency is doing on your behalf and visibility into activities and performance. It means you're able to gain a holistic view of all your marketing efforts. It also gives you peace of mind, knowing that ultimately you have control over your digital presence.
Get a Demo

Tired of relying on your marketing agency and want to put the fate of your business in your own hands? Surefire Local is the champion of small business owners who feel overwhelmed by the digital world and have been disappointed by marketing agencies in the past. We provide local marketing software to simplify online marketing so that small businesses, like you, can easily attract customers, grow profits and maximize efficiency. Through our flagship product, the Surefire Local Marketing Platform, you can easily take control of your online presence, execute hyper-local campaigns and gain real-time visibility into marketing channels that provide the greatest rate of return for your company. Request your complimentary marketing analysis today and learn how you can use the platform to implement a hyper-local marketing strategy, generate and respond to reviews more efficiently, attract quality leads, and measure cross-channel performance to maximize your marketing ROI.