You can't get very far into the conversation of how small businesses can get found on Google while also generating higher quality leads without talking about online reviews.
Getting more 5-star reviews is one of the most powerful ways to broaden your local reach in online search and connect with more potential customers. But you likely already know that, right? The challenge, and frustration really, we see a lot of small businesses have is the feeling of having no control over the process of getting reviews. That you're left entirely at the disposal of your customer, and it's solely up to them whether or not they write that review, no matter what you do to sway their decision. While to some degree that's true, it's not the full picture. There are a few tactics you can use to help improve the odds of a customer writing your business a review online.
In this article, we're going to look at some of the latest statistics around how online reviews can benefit your small business, just in case you're still not sold on the idea, as well as walk through an action plan that you can take and implement within your business to start seeing more consistent results with your review requests and your ability to build a trusted brand.
2020 Online Reviews Trends
What is the likelihood your customers will leave you a review? Survey data compiled by GatherUp reveals some interesting takeaways.
69.5% of consumers would take the time to write a review or give feedback if asked.
After having a positive experience with a company, 77% of customers would recommend it to a friend.
Brands can expect their average star rating to increase after emailing buyers a direct link to submit reviews.
What about the impact online reviews has on sales?
Businesses with more than 82 total reviews earn 54% more in annual revenue than average.
Businesses with more than 9 fresh reviews (posted within the past 90 days) earn 52% more revenue than average, and those with more than 25 fresh reviews earn 108% more revenue than average.
Reviews account for 15.4% of how Google ranks a local business.
Positive reviews make 68% of buyers more likely to use a local business.
60.9% of consumers use Google to find local businesses; 11.4% use Yelp.
With these online reviews trends in mind, you can begin to see the action plan coming together. Ultimately, you want a plan built around:
Setting reminders and processes to ask your customers to write a review about your business (yes, stating the obvious here);
Getting reviews across multiple platforms to meet consumer search patterns;
Continuously get more reviews because of how consumers weigh the recency and quantity of online reviews when comparing businesses.
Now let's build an online reviews action plan for your small business.
Small Business Action Plan for Getting More 5-Star Reviews
These stats help pave the way forward to generating more revenue for your small business.
Here are a few helpful tips to get more 5-star reviews from your customers:
Review your entire review request process. Are there opportunities for improvement? Who is asking for reviews and at what point in your customer relationship are they being asked? Is asking for reviews an established part of your process?
Don't simply send an email or text. Make it personal. Let your customers know you will be asking for a review and that you value their feedback. Be specific with your ask as well. Ask them to share their experience of your product or service, your team, and their overall satisfaction with your company.
Is your customer service excellent? Look at all your customer touchpoints, from the first phone call, all the way through to your billing team. When your customer service is exceptional, you will have an easier time creating strong promoters who go out of their way to review and refer your business.
Be persistent and ask more than once. Everybody is busy and an email or text can go unread. Asking more than once increases your odds of not only getting a review but that a strong promoter will review you again on another review site. If you leverage a platform like the Surefire Local Marketing Platform, you can leverage automation to send a reminder email or text after 5 days. You're also able to see if your customer clicked on the review request link to let you know a review may be incoming, and ask them again if they did not.
Respond to all reviews. According to Google, responding to reviews can increase your visibility in local search, and it naturally helps encourage others to post reviews knowing that they'll get read by you and appreciated.
The Surefire Local Marketing Platform is an easy and powerful way to ask your customers for reviews by sending them a request via email or text.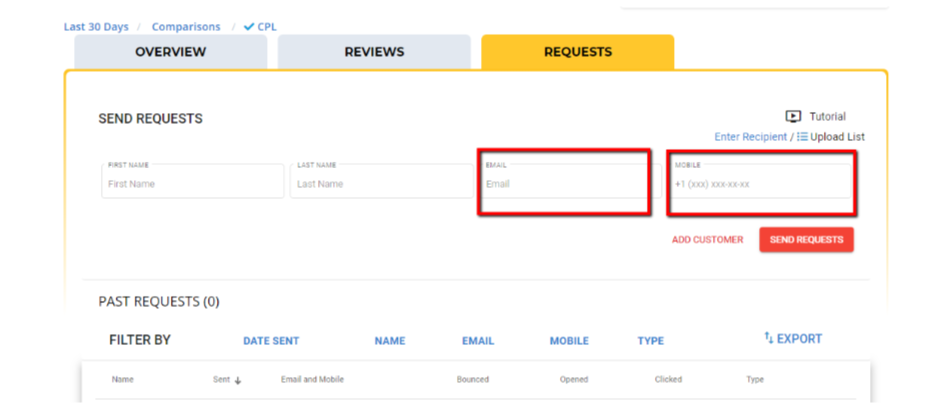 The platform also enables you to write replies to online reviews as well as provide A.I. powered insights showing common words mentioned in reviews and the overall sentiment your customers have for your business. Schedule a brief demo to learn more about how easy it is to build your brand's most powerful asset with the Surefire Local Marketing Platform!